Coronavirus has sparked an increased interest in distance learning – but what is it really like to study online?
5 Min Read
The global pandemic has seen businesses around the world adapting to new ways of working. Online meetings are the new normal, with video conferencing app Zoom hosting in excess of 300 million virtual meetings in April, up from 10 million in December1.
In the education sector we have also experienced a significant rise in demand for online courses since the start of the pandemic, which is also replicated in Google Trends data worldwide2: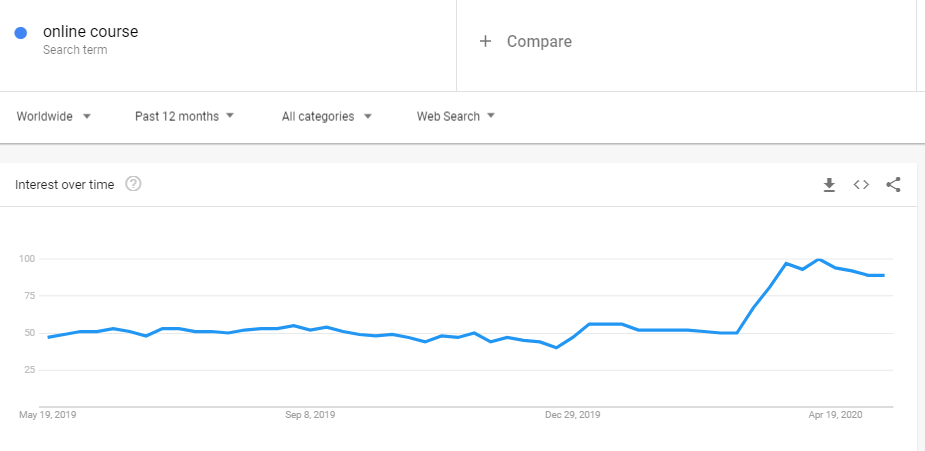 Although this increase in demand has seen some universities rushing to move their programmes online, offering distance learning is certainly not new for all institutions. For example, at the University of Birmingham, we are already one of the largest providers of distance and blended education, offering a range of Masters level degrees that have been specifically developed for a virtual audience.
Choosing a distance learning degree is a leap into the unknown for many students, and some may have reservations about a 100% online programme.
We wanted to help alleviate any concerns and share with you what it is really like to study 100% online. Here we answer your top distance learning queries:
Are my tutors trained to deliver lectures online?
Distance learning involves a whole lot more than just putting campus programmes online.
Our 100% online programmes have been purpose-built from the ground up to harness the full power of the technologies available, involving everything from cloud-powered collaboration to interactive live lectures.
Our lecturers have extensive experience in presenting in the online environment to ensure that concepts translate to a virtual audience and our course materials have been tried and tested to ensure that students find them easy to understand in a distance learning environment.
By using data, we also look to adapt our study material based on a whole range of information gleaned through analytics. This means we are able to personalise the online learning experience for our students through simulations and adaptive learning techniques.
How can I keep motivated when studying online?
Whether your degree is campus based or online, studying for a qualification takes dedication! Our online programmes include a mix of scheduled lectures and self-directed learning tasks and assignments, much the same as a campus timetable. You can contact your lecturers anytime and many of our students form a support network with their peers which also helps keep them on track.
In addition, many of our students find that online study works particularly well for them as it fits around their other commitments, including their jobs and childcare. According to Sarah Clayton who studied our Online Master of Public Administration: "this online course has many advantages which include being able to study from the comfort of my own home, at times of my own choosing, with all the appropriate readings for each lesson available online. I also have the opportunity to get to interact with fellow "classmates" via discussion forums and online webinars."
Does distance learning mean I will miss out on interaction with my peers?
According to Dan Chicksand, Director of the Online MBA at Birmingham Business School, a key reason many students study an online is for the business network they will create.
"One of the greatest advantages of the Online MBA is the diversity of the students on the course. Since inception, the Online MBA at Birmingham Business School has been made up of 67% international students from more than 70 countries.
I often see students and graduates forming close professional relationships as well as friendships, using WhatsApp and other social media to keep in touch and discuss their careers and business problems – even though many of them have never met in person.
The diversity in locations, jobs and backgrounds in online courses means students are working closely with people they may otherwise have not come into contact with, forming bonds that in the future will often open up doors for future business opportunities."
Helena Feibert, who studied the Online MSc International Management agrees. "Studying online ensures an internationally composed classroom. It adds substance and inspiration from different people and from different cultures. I find this enriching to online sessions, discussions and networking".
Can I still gain my English Language Qualification at the moment?
Gaining an English Language Qualification is a requirement for international students to study on a UK degree programme. Although there has been disruption to testing during the coronavirus pandemic, test centres are still open where possible. IELTS is still running tests in certain regions and others re-opened from the end of May. You can check the status of your test centre here.
Do employers view online qualifications differently?
There is no distinction between an online degree and its campus equivalent in terms of the teaching, learning or prestige of the qualification – there isn't even a distinction on the certificate. In addition, many employers view the skills acquired through studying for an online degree, including the self-discipline, to be an advantage.
"The advancement in online learning helped open up the door for me to accomplish my long held goal of getting an MBA" says Patrick Gettleman, Online MBA Graduate. "The online courses have advanced greatly in both their curriculum and acceptance in the marketplace".
There has never been a better time to study online. Whether you are looking to gain a competitive edge in a post-pandemic job market or have found you have more time in your day without your daily commute, the University of Birmingham offers a range of 100% online programmes to help you advance your career. For more information please take a look at our FAQs, fill out our request for information form or contact a member of our Admissions Team.
References:
UNKNOWN (2020) Zoom Revenue and Usage Statistics (Online) Available at: <https://www.businessofapps.com/data/zoom-statistics/> [Accessed 18.05.20]
GOOGLE TRENDS (2020) Search term = 'online courses', worldwide, previous 12 months (Online) Available at: https://trends.google.com/trends/explore?q=online%20courses [Accessed 19.05.20]
Recommended Articles
View All