About us: online degrees at the University of Birmingham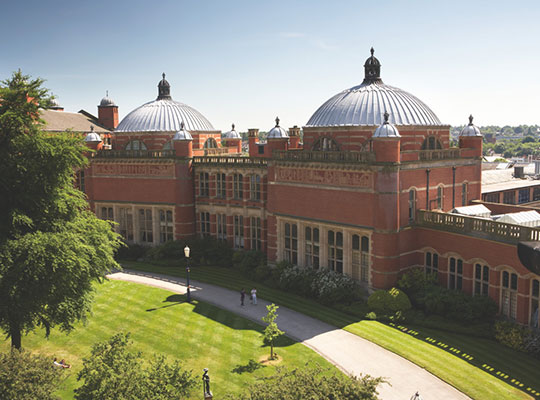 About the University of Birmingham
Founded in 1900, the University of Birmingham is a globally-ranked, world 'top-100' public research and teaching institution and a member of the prestigious Russell Group.
The University is characterised by its tradition of research and innovation, both of which have resulted in major breakthroughs, furthering knowledge and improving people's lives.
One of the first UK universities to admit students regardless of religion or personal background, the University of Birmingham is dedicated to equality and diversity. This commitment is reflected in the University's initiative to improve access to further education globally, through its 100% online postgraduate degrees.
"I initially researched a variety of courses and selected the University of Birmingham due to it being a leading global university. Moreover, my friends who have been enrolled in previous years spoke highly of the teaching and thoroughly enjoyed their time, which positively reinforced the university's reputation for me."

– Sophia Withers, Online MSc graduate, Australia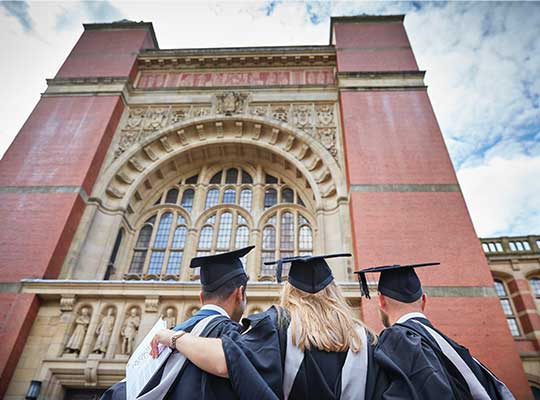 Why choose the University of Birmingham
The University of Birmingham is one of the largest providers of distance and blended learning programmes in the UK. Our dedication to online learning was demonstrated with the launch of a series of 100% online postgraduate degrees, starting in 2015.
Built from the ground up to harness the full teaching power of the technologies available, our online learning experience builds on students' existing experience.
We're always looking for ways to improve the teaching efficacy and the value of our programmes. That means keeping one eye on the future, and monitoring the technological trends that could help students further.
Request more information or a consultation
Note: * Required field
Keen to learn more? Our expert team is ready to answer any questions you may have.
Rankings and recognition
We're an ambitious university, proud of our ranking as a top-100 world university and our performance in all major international league tables. Over the years we've established a reputation for high-quality research and teaching which address the challenges of our time.
However, figures alone cannot capture the experience of learning online at the University – neither can they completely communicate what makes Birmingham one of the most popular universities in the UK and globally. What they can do is provide a useful profile of what takes place in this prestigious institution.
Before making your choice of University, speak to a member of our recruiting team, who can help you develop your understanding of the wider services, culture and experiences we offer online students.
Fast facts
World 'top-100' institution (QS World University Rankings 2022)
Ranked 13th by the Research Excellence Framework 2021
'Top-20' UK university (Complete University Guide; The Guardian Good University Guide; The Times and Sunday Times Good University Guide; Shanghai Jiao Tong University Rankings 2020)
3rd best UK university for producing CEOs (Emolument.com 2016)
2nd most frequently targeted university for graduate recruits (High Fliers Research 2020)
5th in the UK for graduate prospects (Complete University Guide 2019)
Russell Group member university
Universitas 21 member – leading global network of research-intensive universities
"The University of Birmingham is a top quality school in England. I wanted to make sure that the school I chose was well accredited, and with the triple-crown accreditation my degree will transfer back to the US. I also liked the fact that there are live connect sessions 4 times per module. This helps to give the feel of connection to the courses."

– Patrick Gettleman, Online MBA graduate, USA
Our mission
As an institution dedicated to learning, we contribute to the growth and spread of knowledge and ideas which will help to transform the world; working with partners to take on the big questions, find and implement solutions and make a difference locally, nationally and globally.
This purposeful, pragmatic and pioneering approach, focused on the common good, has enabled us to redefine the civic university, becoming the standard against which others are measured.
Our vision
A leading global university, we combine a strong reputation for teaching excellence and pioneering research with engaging online learning techniques.
Purposeful, pragmatic and pioneering: a world-class, global and respected university with over 100 years of history.
"I chose to study at the University of Birmingham because I wanted the best school for my studies. That and with the flexible online offering, I can keep my job and continue to earn as I study."

– Tosan Ozoros, Online Master of Public Administration graduate, Nigeria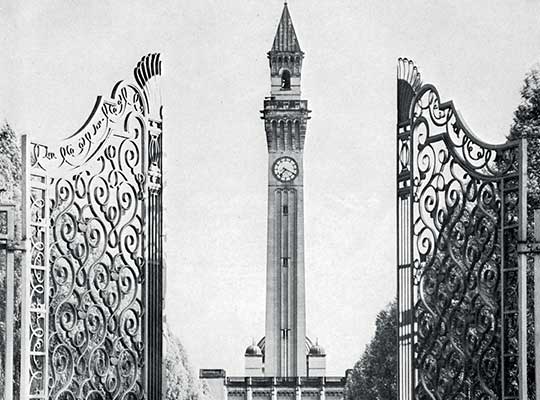 Our history
The University of Birmingham was established by Queen Victoria, by Royal Charter in 1900. It was the UK's first civic or 'redbrick' university, committed to accepting students from all religions and backgrounds.
As a founding member of the National Union of Students, the University of Birmingham has a tradition of being unafraid to do things differently. Today, the University continues to break new ground, push the boundaries of knowledge and make an impact on people's lives.