Make an impact at the highest level
Centred on the challenges of responsible business and ranked Top 10 Online MBA in Europe (QS 2023), the world's first 100% Online Masters in Business Administration (MBA) to be accredited by the Association of MBAs (AMBA) will enhance your ability to perform at the highest level in global business management.
Learn more today
Note: * Required field
Business Webinar:
Watch the recording of our online Business webinar hosted by the Online MBA Programme Director, Dr Solon Magrizos. This session is a chance for you to gain an authentic feel for what it's like to study the Master of Business Administration programme online from the Birmingham Business School.
Quick facts
67%
international – students studying overseas in more than 70 different countries1
£23,460
total programme fee. This can be paid in full or in instalments of £1,805 every module2
AMBA
first 100% Online MBA to be accredited by the Association of MBAs (AMBA)
Advance your career at a gold standard institution
Designed for ambitious professionals with at least three years of management experience, the Online MBA will enhance your understanding of business theory, practice and leadership.
The programme is part of a range of MBAs run through the Birmingham Business School, the UK's oldest business school. As well as being acclaimed internationally, it appears regularly in global league tables and holds the rare 'gold standard' triple-crown accreditation. The School is committed to promoting curiosity and thought leadership for responsible business; two core principles running throughout the Online MBA.
Thanks to the highly transferable, practical and contemporary programme content, you will graduate with the real-life skills and confidence you need to step into a senior leadership role and make a greater impact in the world of business.
For professionals already working within healthcare management, we also offer the Online MBA Clinical Leadership – a specialised programme that will empower you to manage and lead clinicians, understand and influence policy, and achieve strategic level changes within health services.
"I would recommend an Online MBA to anyone who does not have the time to commit to a residential type course. The online MBA gives you much better flexibility and potentially suits people who favour a coursework-based approach where you can practice the theories and models, rather than an exam-based approach."

– Andrew Lavin, Online MBA graduate, United Arab Emirates
Career outlook
Thriving on its connections and partnerships with companies from Aldi to HSBC, the Birmingham Business School opens up countless opportunities to advance in today's highly competitive business market. Our lecturers and speakers are key to unlocking the latest business insights, which you apply in your own career.
As well as being invited to online industry guest lectures, you'll have the option to visit campus to take part in workshops such as our annual Deloitte Consultancy Challenge.
To help you make the most of the available business management opportunities, we offer one-to-one employment advice to support your goals and further advance your career.
Unlock your career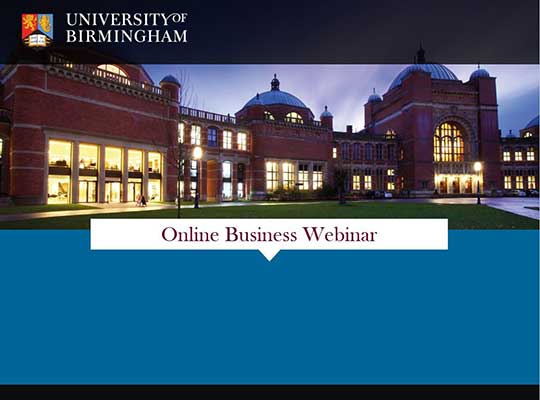 INSTRUCTOR: Good afternoon, everybody. And welcome to this Online Business Webinar from the University of Birmingham. So with that in mind, well, what I want to do now is switch gears, really, and look at the little Starbucks case that I kind of gave to you folks a couple of days ago.
And we'll just kind of play with this. We'll just deconstruct it, and discuss it for the next, what? The next 20, 25 minutes or so. And this will simulate the sort of thing that we do in a synchronous session, so it's an opportunity to discuss programme content.
And this particular case study, it can be explored through several analytical lenses. So what do I mean by that? It's generically cast as an operations management case study. But here, as we discussed this, we'll realize that we're kind of talking about service operations as well. And in some ways, marketing, and strategy, and even financial considerations.
So whilst like every MBA programme in your year one, it's taught as a set of fairly standard blocks, operations, marketing, finance, strategy, international business, et cetera, we try our best to link them together, integrate them to show that these tools and techniques are all integrated. And in year two, you can do a module that looks out to the whole world through the lens of a CEO lens for managing director, effectively.
OK. The other point here for this session today, obviously, it's me talking. You folks have got typing capability. Normally in a synchronous session, we would be a little bit more interactive. Your tutors, module leaders would always be on camera, and everybody would be on microphone, and everybody would be encouraged to talk openly.
If we have small groups presenting, for example, then it's quite possible for a group of three or four to also be on camera as well. With a typical synchronous session class size of 25, sometimes we kind of stress bandwidth, and we definitely stress the screen size constraints if everybody was on camera, but we certainly are moving more towards that, shall we say, as technology improves.
So anyway, here's the case study. Like I say, I hope you folks did get a chance to look at it. And I just– before I move into that, I think I've answered your question there, Alexander, haven't I? Hopefully. Hopefully I've covered that there with what I just said.
So let's see. I hope you folks have had a chance to look at this case. It's a couple of years old now, so there's a fair chance that some of you are actually users, are actually customers of this. And still, I'm not going to read every word on there, but it's effectively about when Starbucks decided to launch a mobile ordering app into their store. So rather than just go stand in the queue at lunchtime, you could, in theory, place your order as you're walking down the street or just before you leave your desk, and walk in and pick it up.
And what I want you to do is think about the implications of this primarily through the lens of operations management. So what's it mean for Starbucks in respect of how they make coffee, how they serve it, how they structure their layout inside, the typical coffee shop? They're all very, very similar, aren't they? Whichever brand name is on the door, so let's have a look at that.
So things went wrong, basically, going back two and a bit years. We had some failures. So, I'm going to throw it open to you folks now. And I know I'll kind of get pause here for quite a few seconds till the first answers come through but tell me: with a focus on operations, what kind of failures do you think happened here?
There's a few things on the screen there. Customers found themselves crowded around the pick-up counter. Well, what's going on? I thought I'd place my order, walk in, and pick it up, but it's not happened. So over to you folks. I'll just pause for a bit of water for 20 seconds or so. What kind of failures can we see from this?
Like I said, I know it's always quiet for a little while till the first one comes. OK, I got one from Angelica here. Yes, staffing issues. OK, that's interesting. And quite often in this situation, Angelica, there also, Sarah as well.
So you said something to me, Angelica. So staffing issues. So, I'm going to push it back to you; what do you mean by staffing issues? Develop it a bit further if you can.
And possibly what George is saying here as well, accommodation issues. I'm sensing George is probably thinking of a similar thing. So I'll push it back to you folks, Angelica and George. What do you think there?
So, George has come back here. Changing the sitting environment. OK, I kind of understand that. But what– in some ways, you're kind of getting ahead of yourselves a little bit here. You're almost coming up with a solution. So let's just try and keep it fairly basic.
What sort of failures have we got from an operations point of view? What's changed? What's gone wrong?
And if I say to you, think about the flow of people through a Starbucks operation. You as a customer walking through, effectively, Starbucks is trying to process you, is it? And push you through there. So what– by introducing this app, what have they changed?
I can see a lot of things coming in here. High demand, not customer centred anymore. The priority process. OK, like I said, quite a lot of these are still jumping ahead a little bit. Not enough staff to accommodate.
Well, let's try and just get what's the failure first. What's changed? I think Ganesh is possibly getting the closest to it here by saying the priority process. Develop that a bit further if you can, Ganesh.
Now, I'll just– OK. All right, Alexandra. This is– OK, OK. Overcrowding the pickup area and upsetting the customers who don't have this. So, right. So that– Alexandra is getting very closely here.
Miscommunication. OK. Customers in the shop versus out, so. Right, good. Slowness in turnaround time. So Marc– yeah, we're getting close, aren't we now? Good to Marcella, Alexandra, one or two others. You're getting close to it.
If I kind of flick on from here, from an operations point of view, we're all familiar with the picture on the screen now, aren't we? It always makes me laugh at every coffee shop around the world, because I– well, like most of us, I do visit them myself, spend a ridiculous amount of money to go to get a drink or whatever. And quite happily, we'll spend 20 minutes stood in a queue, won't we or whatever at the peak times of day?
But here, there was an established– the way they used to do it, there was an established flow through the process, wasn't there? You'd stand in a queue up to the ordering point, effectively place you order. They'd pass you along to the till in a relatively orderly flow, and then you'd pick up your drink maybe within a couple of minutes.
While here, by creating, by offering the app ordering, what they've done, they've disrupted that flow, and they've changed it, haven't they? Basically, as one or two of you are hinting out there. So now, as well as– I'll call them ordinary customers who walk into the store– now, another whole group of customers can bypass this queue and just crash right into the middle of it, can't they? And just go and queue up at the collection point effectively, at the till to pay, and then at the collection point. So they've disrupted the flow, haven't they?
So they've created a new queue which then changes things to simulate a lot of what you've made in your comments on here. We've got slowness down here. Yeah, it's to change the staffing requirements, isn't it? People can't just do the same jobs anymore, stuff like that.
So let's move on. If I look at it from what I'd call a manufacturing or a factory point of view which arguably– the bit where they make the coffee, and put the sandwiches in the box toaster thing, that's a manufacturing area, isn't it? Where they're making the coffee.
And before, the queue used to come in from the open doors on the right, didn't it? And fairly orderly flow from right to left. But now, people can walk in and bypass that, and may be coming around the back and pick up there.
Think about this as well. In the actual manufacturing time of making the coffee in this system, it hasn't changed, has it? It's just all changed around the pick-up queue. So interesting question here from Marianna. Could we compare this to McDonald's?
Yeah, absolutely, you can. I think you can compare it to any operation like this, Marianna, where you can walk in and get it. I actually did see a similar situation about five years ago here in the UK, when Starbucks started to the drive-through ordering, just copying what McDonald's did.
And I happen to be in one just by chance, in the in-house queue. And I could tell they just opened the drive-through pretty much that same week, because the staff hadn't been trained, and you had huge queues forming in the in-store bit, because the person kept turning around to deal with the drive-through order. So very, very similar, Marianna, and everybody.
Yeah, so again, one or two of you jumping forward to solutions. Omarosa, a queueing number needed I guess, within the app. Yeah, yeah.
So we've got this new queue, but from an operations point of view, that's what I'm really looking at initially. You've changed, by marketing, if you like, offering this new online app. They've kind of jumped right into my nice operation and messed it up. They've given me some new things to think about, so I'm going off to do some work here, aren't I?
So as well as a new queue, we've got what we would perhaps class as bulking. So we've got so many customers who are going to use the mobile order and pay, and that's rational, isn't it? It's technology. It's appropriate use of technology, I would argue. So the baristas this can no longer keep up now.
Either way, possibly, they're losing some business here. Customers see a long line, they're going to balk. They're going to worry about it. They're going to– sometimes they turn round and walk back out the door.
So back to you folks. And again, I've possibly had a couple of answers to this question already, but let me throw it back to you. So what are the consequences then of what we've just seen? We've got we've got bigger queues, got new queues, and we've got this balking thing. So what are the consequences, do you think?
What are the consequences? And this is a wider context question. You can think of Starbucks as a business now.
Yeah, OK. Thanks from– apologies. I might not get the names right here. Again, and come a loss of customers. Yeah, quite possible, isn't it? So a loss of customers.
Right, Dina is saying a similar thing, a different angle, yeah. Reaching out to substitutes, yeah. Turning around and walking away. I would argue that that's a loss of customers, isn't it?
So, OK. So again, Ganesh is yeah, Ganesh, right. Customers will feel welcomed. And it could be a double problem, couldn't it? Because the people who've quite happily stood in the queue the old-fashioned way for 10, 15 minutes every day might find themselves stuck there for 25 minutes a day and wishing, oh, I should have ordered through the online app. I would have got there quicker.
Good. Everybody's kind of engaged in this now. Yeah, yeah. So let's have a look at that. I think you've pretty much nailed it.
So I would summarize it just as is that there, isn't it? Balking. Yeah, revenue from walk-in customers is down, like I said. They're going to get annoyed as well. The queue is looking longer. No matter how good the coffee shop is, I would argue if the queue is out the door and going down the street, I would probably walk on by.
Customer dissatisfaction. Yeah, and then back in the ops world, crowded and confused flows around the pick-up plane, isn't it? Definitely. So lots of good stuff here.
Yeah, Ansari, yeah, that's great. Let's not forget the quality angle as well. Yeah, drinks might get cold. Don't forget, we're still making drinks the same as we made them before, so probably drinks are going to get made, that they're going to get parked in a corner for a while and stuff like that.
Yeah, George. Great. Quality of customer service change, a loss of customers. Absolutely.
And if you're thinking of what we're all exposed to now, isn't it, this technological era, bad news will travel fast on social media, won't it? Even while people are playing on their phones in inverted commas in the queue, they'll be sending that message, just saying, don't bother coming to Starbucks anymore. It's a mess, blah, blah, blah.
Great point here also from Omarosa. So stressed baristas due to huge line and deteriorated quality. Yeah, so think about that. Stressed people. See if you've got possibly human resources issues, haven't you? Organisational behavioral issues which is another module that you study.
Stressed baristas are likely to get into quality problems as well or maybe get short temper with service, and the whole thing goes wrong very, very quickly. Doesn't it? So yeah, good discussion, folks here. So it looks like you've kind of picked all this up here.
So, all right. So, next question. And again, we've kind of touched on this, but just have a think about it again now with what we're talking about. What are some of the causes of the failures? What's causing this to happen?
Yeah, we know. So they've launched this new app that was intended, obviously, not to be a failure but to enhance business. Well, what's gone wrong? What's causing the failure, do you think?
OK, still see some good kind of future stuff here. And again, some solutions here, which I've not asked again. I've not got to the solution question yet, so I'm still on, what's the cause of the failure? So by the way, I don't mind you typing stuffing in right now, as it's brilliant to see that you're actually engaged with this. But from a flow point of view, I'm going to stick with what I've got on the screen here.
So, OK. Good. We've got a lot stuff here. Right, let's have a go. Bad change management. I like that. That's interesting. I could kind of push that back to you, Anne Kerman, for a bit more detail there.
Yeah, not thought through from the operator perspective. Good. Excellent, Ganesh. Excellent.
Quite often when we're making operational changes, it's all done by clever people in inverted commas, isn't it, in the back office? And the soldiers on the frontline service and the customers make running the machines who actually know what's going on are quite often excluded.
They didn't plan. They've got inadequate planning, increased demand, right. No one asked manufacturing's point of view. Yeah, I think you've been kind of doing this already, Ganesh, looking at all your answers. That's good.
No solid plan to manage the growth in demand. Yeah, customers' expectations. Operation structure from Alexander. I think I know what you're saying there, Alexandra. By all means, type again if you want, because I'll challenge you. Tell me what you think it should be structured like, which gets us to the next set of questions there.
Right, yeah. Everything's changed. Good. So interesting, isn't it?
So let's have a look at what Starbucks said about it. And again, you might be familiar with this. So the CEO at the time, a guy, Kevin Johnson, kind of made this comment, our demand has increased, and one or two of you said that. We're now focused on fixing it, blah, blah, blah. We'll solve it, no worries.
But let me ask you a question. Do you agree with that? Is he right? Is it all about demand? What do you think?
Is it all about demand? It's not the only issue here? What do you think? Has the demand gone up? Or perhaps, has something else happened to the demand? By launching this app, how has the demand gone up?
So I've got one here from Marianna. OK, she's saying no. So I think you're saying, no, that the demand has not gone up, Marianna. Yeah, it's more about mis– probably trying to say mismanaging the customers' expectations there, isn't it?
Dissatisfaction decreases demand, George. Yeah, that's possibly what was going on. Demand was misread as popularity, Ganesh , yes. Omarosa, demand has decreased from walk-in customers. Ah, from our day, the process isn't matching, the increased demand. So that is arguing that there is actually increased demand.
Let's have a quick look again from an operation's point of view. What's possibly happened here? So this was a fairly typical demand profile in a Starbucks operation before this online up thing was available. And if you look at that chart, I think that's fairly predictable, isn't it, through a day?
So you've got a little of what I would call a breakfast peak, people popping in for a coffee and pick up a sandwich or whatever on the way to work, possibly a similar peak around mid-morning break. Let's just nip out and get the coffees for the office. The big spike around lunchtime, isn't it, is then repeating itself, and perhaps we're there with a longer demand surge of people popping in on the way home after work to pick up a brew.
So if I kind of superimpose on top of that what happened at this example store with the red dotted lines there as a result of doing the app, so argument here is demand is similar. But what we've done, we've increased a variability. OK? We've kind of changed the demand profile a bit.
Now, it's probably quite hard to see on the screen. But clearly, the demand surges are higher than they were before. But if you look at them, they're also a bit narrower, so people are trying to take less time, aren't they? Because they've previously ordered on the app. They're trying to get in and out of the store quicker.
So the overall demand is similar, but we've increased the variability of that. So hopefully that makes sense. That's kind of what's happening from an operational point of view.
So let's develop that a little bit further and think what might happen as a result of increased variability. So what do you think? What do you think, folks? You tell me. Again, I've got some of these answers here, but think of it now. Go back to–
Think of a conveyor belt, think of simplistic standing in the queue at the coffee shop, or at the airport, or whatever, and think about that demand profile we just looked at. The same number of people are coming in, but the rate at which they're arriving is changed. So what might be happening here? What might be happening from an operation's point of view?
OK, this is interesting. OK, so are they– OK, I think it's a process problem. Perhaps we need to look at the process of making coffee at different times. OK, great.
So again, looks like– Adi Oriade's been kind of in this world already looking at different supply streams, et cetera, all that kind of thing. Yeah, can't serve them all. Good. I like that, George. Quickly enough, thank you. Yeah.
So can't serve them all quickly enough. That's the case. So Dana, again, no problem. The meaning of increased variability. If I just go back, take Dina's point, it's a fair question. If you look at that increased variability, so within those spikes we've got potentially– we've– the window's narrowed effectively, or it used to be within the blue line, Dina. It's slightly within the blue line.
If you look at the 8 o'clock, 9 o'clock one, you can see that the window's narrower. But within that narrowing, there's kind of more people within a smaller time window. But overall, you end up with a similar thing. So it's more variable within that window, and it'll get a bit clearer when I look at the next slide for you there.
All right, let's go to that, because one or two of you are getting very close to this. If I draw it out, and again, in operation's term as a fairly simplistic time base flow, the strap line here is that then because of this increased variability, the work is starting to trip over itself.
If we say here, it takes about two minutes to make a latte, so if you look at each of the green blocks, it is making coffee. A, B, C. That takes two minutes. And if a customer arrives every three minutes, so 3, 6, 9, 12, 15, et cetera, basically in every three-minute window, you've got a customer, you've got two minutes to make the coffee, and then the minute to take the order, process the payment, et cetera, and then add a little bit of a wait. Then the next customer arrives.
So the way they got it set up before with one queue, if you like, through the ordering process, through the check, the payment process and the pick-up process, they could keep this map fairly smooth. It would still peak at different times of day, but they could keep it fairly smooth.
So if I take what we're starting to do here and looking at this slide, which gets a little bit more detailed, but stay with me. So the top bit is the same information we looked at before, the two minutes to make, three minutes per customer there. If we go to the bottom, I've started to shuffle around some of the green bars.
So let's say, for example, that there's this B who arrives late, but it's OK. He's still within the three-minute window. Well, let's say F. Here, F was an online app ordering customer who kind of arrives early and has got to go in the queue, because he's not finished there. So they're kind of starting to trip over themselves, aren't they?
But there's still a bit of slack. So we're OK. We recover which GHI. J is very late, and K has to wait, and same for L. So it's starting to where the K and the L is. It's starting to get a little bit busy, a little bit of a queue.
And if I take that on to the next slide, what we saw with the actual online ordering at those peak times is that you just get what we call clumping of demand. So even though the overall capacity store is adequate, within a day from 8 o'clock in the morning till 8 o'clock at night, they can still make enough cups of coffee and whatever, sandwiches to service the demand through the day.
The fact that we've got them at higher variability there, as was asked before by one of you. Wasn't it by Dina? Had we got the higher variability, that means at certain times, we're going to struggle. And this variability in demand is eroding our capacity.
So if you look at the C, D, E, F, G all arriving at the same time, because they've all ordered online, let's say, for example, it's still taken us three minutes to C, D, E, F, G, and H, isn't it? So if we look out to G, who arrived in minute 18, it's going to be minute 24 before their coffee's made, for example.
It frees up again, but then if you get you know K, L, M, N, O, P et cetera, later in the day on the right hand side there, you're going to get another clumping of demand. So you get the you get these extra queues forming there from an operations point of view.
And then ultimately, you can get to what we call a tipping point, and the system never has the chance to recover. So effectively, you're going to be behind the whole time. And then this is a situation where people balk, and they turn away. And actually, the only way the system recovers is because business is lost to do that.
So that's fine, Dina. Thank you. Thank you very much. I'm glad that makes sense, because it's– so yeah, it's just– did this online, I'll call it teaching environment, is challenging as well, because you're kind of talking, and there is a bit of an assumption that people get it, so I thank you for the feedback there.
But it's typical, isn't it? You see this. I talk to my students. Another classic example of this sort of thing is, every time we go through an airport, isn't there, there is some forced queuing points, aren't there for bag drop, et cetera, and security is perhaps the obvious one, things like that. But then you've got the coffee shops inside there, and then maybe even the biggest obvious one is walking down the gangway to get on the plane, isn't it?
And when we hang around the boarding gate, don't we, to try and get in? But at the end the day, it doesn't matter what we all do. One person can walk through the aircraft door at a time, et cetera, and things like that.
But we're all a part of that same problem, aren't we? But this is what it looks like from operations management point of view. So let's move on then, the last bit.
And again, I had a lot of answers before, earlier on, so I'm not going to I you to retype everything. But the next question here is, how could we fix the ideas? If you want to type something again here, go ahead, by all means and don't do that, basically. So let's have a look.
Let's see. And my question box is kind of pretty full now here. So let's take all look. What have we got here?
Good. All right. Marcel, yeah, Marcel. And Marcel, part-time workers at peak periods. Yeah, I like that. That's an interesting one, isn't it? And I want to bring back to the one that Ade or "Addie" said earlier about possibly having two streams in store.
Separate baristas for online and in-store ordering from Lauren. That's a fascinating one, yeah. I want to throw that back to you, Lauren. I think it's a great idea, but let's see if you can tell me, is there are any risks or is there any problem in doing that?
Because if you look back to the earlier slide, one of the features of, I think, anyway of this type of coffee shop layout is that you can see the factory, can't you? Yeah, you can actually watch the baristas, and they all wear t-shirts saying, barista, don't they? Or super barista.
And I think it's very deliberate that you can watch them make the coffee. You can hear the hiss of steam as they put the fizz in your latte, and they charge you an extra dollar for doing that. But tell me, Lauren, why– is there any risks in having separate baristas for online and in-store? I think it's a great idea.
And looking at Ancome's there. More service. Well, think about that. That clearly implies more cost, doesn't it, Ancome? More service. And if we argue that demand hasn't changed, so therefore, revenue is the same over the long term, more service is going to cost me more money, so why would I want to do that?
So Assad's been a bit radical here challenging technology. Go back to the old way. So Marianna, yeah, OK. So you use the app better. Yeah, use the app better. Someone said earlier on, didn't they, maybe you get a queuing time and a queuing number, a ticket.
OK, Samuel. This is possibly similar to what Lauren was saying, have a dedicated employee to take care of online orders. , Yeah use a Tesco model. You open more queues at peak time. These are so interesting. I guess I could challenge that back as well.
That implies possibly more people doesn't it, as well, Ade, Addie? So, I'm not sure which one. Ah, Ganesh. Oh, reduce the different types of coffee, yeah, and automate it.
So marketing would love you for that one, wouldn't they, Ganesh? Well, let's kind of solve our operational problems by having less product. I like that.
Ah, Alexandra. Restructure the team. Yeah, so this is interesting. This is possibly picking up on the challenge of not having more team people overall, but maybe restructure the team. Yeah, good, yeah. I could read this stuff out all day. It's fantastic. So you guys are engaged.
Hopefully you can see now, this is the kind of thing, the kind of interaction that we get going in one of these sessions. And it's busy, isn't it? I've probably got 50 or 60 discussion posts here on my screen, and time flies by, doesn't it? So, excellent, excellent. I love it.
So what did Starbucks actually do? Let's have a look. So yeah, interesting. So they kind of went down mm know the lines that one or two of you have you been talking about, initially addressing putting new systems in place and staffing baristas with additional employees during the rush hours, but then less during the non-rush hour.
To try and mimic the variability in demand by having a variability in staffing. And there's a lot of things to think about for doing that, isn't there? You need variable flexible contracts with your people, et cetera. You probably might not you be able to phone them up every half an hour and say, can you come in, can you come in? You've got to have some level of planning, but flexible staff is important for this point of view.
As one or two of you are saying, it did test a system that will kind of text customers when the drink's ready. And here's exactly like one or two of you said, trying to solve the problem by adding baristas focused only on the mobile orders, the payment during the actual rush hour.
So I want to come back to the question I think I bounced back to. Was it Lauren who said, separate baristas for online an in-store ordering? And if I just go back quickly, if we look at the, as I call it, the factory there, taking up on what Lauren said, I think it was a key message, the way these things were set up, that you can walk in.
And all the way, you're in the queue from the door on the right hand side there to pick-up. You can watch the coffee being made, can't you? And that was part of the marketing thing in the early days, and it also disguises the fact that you're in a queue. You can watch, you can choose, you can see what's going on.
My question back to Lauren was mainly aimed at, if you've placed your order through an online app, by definition, you're not interested in seeing it be made, aren't you? So I think what Lauren was saying, maybe they need to redesign the factory here, the manufacturing area so that possibly there is a backroom space where you're making coffees for the online orders.
So again, you'd have to reshuffle the workload around. And so, and that's a difficulty for operations managers. If the overall revenue's not going up that much, but you've got to do more things with the same number of people, you've got to be very creative. So an awful lot to think about here, but good. Good discussion. Just keep an eye on time here.
So final kind of question, really, here to you folks. What other kinds of variability that a typical outlet like Starbucks, that they do all the time, exacerbates this problem? So we've got we've got this variability caused by two different ways of ordering and picking up your product. What else do they do from a typical operation from a marketing perspective that makes life difficult for the operations manager? One or two of you said answers to this.
Yeah, Sarah, you got it. Yeah, lots of different drinks, aren't there? Like I think one of you was saying, and I love it, because I'm an opt guy. Well, let's reduce the number of coffees that we do here. Yeah, going to– might struggle with that, but lots of different drinks from Sarah, yeah. That's just one example, isn't it?
Again, you build your operation. It takes you three minutes to make a latte, or a cappuccino, or 30 seconds for a cup of tea. And then someone invents the Ice Caramel Macchiato. You put a bit of lemon in it, an umbrella on top, and sprinkle some green stuff on it, and it just changes the manufacturing time, doesn't it, and what the people get used to. They have to work at different speeds for different things.
But like Marcel says, this business, it's reality. Ops and manufacturing have got to work together. So if they charge a different price, we have the chance to make more money, but OK, good.
All right, folks. I'm conscious of time. I want to spend a quick 10 minutes now in the module. But genuinely, thank you, thank you very much for all your contributions. I think you can see now the sort of things that you would be doing as students in the synchronous sessions. And also, on the actual– within the module.
So bear with me now. I'm just going to change screens. So hopefully, you should now see my dashboard– a little picture me in the top left there– for the programme. So this is our virtual learning environment. It's called Canvas.
So if you join the programme, you'll get your own one of these. And over the two years, your page will start to fill up with lots of different modules. I actually get access to every single module, so I've got a lot on here.
But this is the dashboard. So you can set up your account to try to get notifications, tell me what I need to do today, this week, am I overdue on a discussion post? Or when's my next assignment due? You can see things on the right-hand side there, et cetera. It's got a built in email system, et cetera, and there's built in conferencing tools for the synchronous sessions, similar to what we're looking at right now.
But here, I'm just opening up the actual International Business module. And if you think about it, I'm now using our VLE tools through the go-to webinar VLE tool. So I'm kind of using two online systems on top of each other and hopefully technology is still moving pretty quickly here, isn't it?
So this is what a front page of the module looks like. The chance me to introduce you briefly to my colleague, to Roshan there. Roshan, he actually module leads and teaches the International Business module within the programme, and he also leads the whole MSC course. So if you're applying for the MSC programme and perhaps you weren't in that generic experience profile, you needed interview, it would probably be Roshan who you would talk to there, so a very experienced academic, very, very good in the international business and strategy field.
So let me just click briefly into the module. And again, I'll just do a very quick kind of walk down here, because you can see, this is really– so this model ran in January, February, so it's kind of done. It's finished. So I am looking at effectively, the whole module listing here.
First thing I want to point out, middle of screen there, we've got e-books. So I'll just click into the e-book. This one actually has two core textbooks. So again, you can download a core textbook like this. They have their same kind of VLE system. This is one of the two core texts there.
This is that first one there from Collins, I think, isn't it? So again, this is another way if you like another VLE system for the book, and you can drive that by going page to page or by picking up a chapter on the left-hand side, as I've done there. So a very, very good way of getting your core textbook.
Every module has core textbooks. And basically, you can get those. They're kind of yours forever, effectively, within there.
So just going to go down, and I'll look into– so you can see Unit 1 on the screen now, and this is a typical listing. So you've got lessons one, two, three. So pretty much every day, you've possibly got two or three things to do.
If I just click on 1.1.3, so this might be your– kind of what you look at, read, watch videos here on a daily basis. So this is part of your two hours per day. So there's a little– this is about Starbucks in an international business context. So a lot of the content here, call it the written content, is a blend of text, of videos, and then perhaps, of some kind of academic model.
So this is a typical Ansoff product kind of process, markets and matrix that you'd become familiar with. So typical day's activity there within that. And I could scroll down the whole week's one, could do it pretty quickly. Week two, week three, four, five, six, and seven all the way through the programme there quite quickly.
But to show you, there's activities, there's discussions, there's case studies, there's readings. And at the end of weeks one, three, five, and seven, like I said, this is week seven. Right at the bottom of week seven there, you've got the Connect Classroom for week seven.
I just want to show you one or two other things to, again, to show the depth of discussion in here. If I click on the discussion panel here, I've got to be a little bit careful here. You can appreciate for GDPR perspectives, I cannot actually open up a discussion and show you– effectively, give you access to the real students, and their names, and all that kind of stuff. I can't do that.
But if you look at the discussions on the screen here, these are all the discussions from this module, so roughly to a week. And it's similar to what you've been talking about. If you look at the numbers on the right-hand side, 210, 192, 292, 85, 295, those are the number of contributions that we got within about a three, four-day period to that discussion.
So if you think about what we've been talking about, I probably got about 40 or 50 posts from you folks in about 20 minutes, so it's a similar pace. So it's very busy, very intensive, very deliberately. It is what we do there.
The final thing I'll show you very quickly to give you a feel for the assignments, OK? So let's have a look. Let's have a look, see where I can go here. So yeah, Assignment Builders.
So if I look at this, let's have a look. Where are we? Yeah, so final assignment details. I can show you this.
So each module typically has something to do about halfway through the module. Keeping it simplistic. So maybe 30% of your mark will be a mini assignment, a group task, maybe a case study or something partway through the module that you would do.
Then, at the end, you typically get a written assignment between 2 and 1/2 and 3 and 1/2 thousand words. We give you the question as clearly as we can, so it's on the screen there. Pretty much every module, with the exception of finance, gives you the opportunity to tackle something that's the big issue in your current company, or in your industry, or in somewhere that interests you, a company that used to work for, or maybe a sector that you want to work for.
But we basically give you the chance to focus pretty much everything within your own company environment. So you get both the academic knowledge and the practical benefit at the same time. So we make the questions as clear as we can.
What's the most significant IB issues facing your company? How are they affecting you? What form? And then what should you do about it?
We tell you how to upload it, et cetera, tell you all the deadline dates. So then, very importantly, I'll just reveal to you the marking rubric for the module. So we're very transparent. We tell you upfront.
A typical module assignment will have seven or eight criteria. Some– do I understand the basic concept? Can I apply them? Am I critical?
This is UK level Masters Education, so we're looking for critical ability, argument, substantiation. It's not about learning facts and reciting them back. We just want you to develop your own views, and argues, and challenge. Everything I've just been saying about Starbucks and queues, I want you to challenge it, and rip it to pieces, and come up with your own ideas.
So that's a typical assignment thing there that we do. OK, and just looking at time here. So like I said, a very quick tour through the module, just very briefly back to the home page.
So that's what you will get with each of the, effectively, 12 modules that you will do over the two years. So pretty intensive, one after the other. But like you say, if you get interested in it like all you folks have done in this first discussion, you'll have no problem with that.
Business case study
In a webinar hosted by the University of Birmingham and Senior Teaching Fellow, Andrew Parker, gain an authentic feel for studying the MBA online.
Watch our business case study which explores the service delivery challenges that arose out of the launch of the Starbucks mobile app.
Admissions requirements
To apply for the Online MBA from the Birmingham Business School, you will need:
Bachelors Certificate or transcript (or equivalent): In order to assess your academic eligibility, you must upload a copy of your Bachelors or alternative qualification certificate or transcript stating the final overall grade of the qualification.
At least an upper second-class degree from a UK university, or we also accept alternative degrees plus relevant work experience
A minimum of three years' professional experience at the management level
A reference (this is dependent on your entry mode and may not be required)
CV
Language requirements (international students)*
A statement of purpose (Optional)
* Exceptions to the listed admissions requirements will be assessed on an individual basis.
View requirements
Tuition details
The estimated total cost of this programme is £23,460. You can pay in full or in instalments of £1,805 on a module by module basis. All costs are listed to help you make an informed decision.
More tuition details
Looking to learn whether you meet our entry criteria?
Email your degree certificate (or equivalent) to us. A member of the online admissions team will provide feedback within 48 hours.
Email Degree Certificate
Start dates:
February | June | October

Curriculum: lead by real-world example
The accredited Online MBA degree will provide you with key insights into the latest business principles and approaches through practical experience, exploring all the core areas of business from marketing and strategy to operations management and accounting.
Building upon the core theories of the first term, the second term offers a choice of elective modules, such as Critical Integration in Management and Entrepreneurship and Innovation. This, along with the dissertation in the final term, allows you to tailor and align your studies with your interests and career objectives.
For those individuals working within healthcare management, our Online MBA Clinical Leadership offers further career specialisation, with niche modules designed to develop students' ability to manage and lead clinicians – while also covering modules from the traditional MBA pathway.
Explore the curriculum
"The great thing about Birmingham's Online MBA is that it is truly an online course. Although advertised as "online", most other universities require that you attend campus either regularly or at some point during the degree. Birmingham gets the balance right through fortnightly synchronous seminar sessions, weekly discussion activities and regular groupwork, which means that there is plenty of interaction and networking among peers."

– Harriet Jeckells, Online MBA graduate, United Kingdom
Programme outcomes
You will complete this programme ready to:
Hone your own leadership practice
Implement successful business strategies
Tackle the challenges of international business and internationalisation
Apply an integrated understanding of marketing, operations, HRM and accounting and finance
Exercise strong leadership in a host of organisational contexts, in the UK and overseas
As well as providing the highest levels of convenience and flexibility that 100% online learning offers, the programme is full of interactive elements, like video and group activities, which bring the content to life.
Rather than trying to replicate a campus-based setting online, we've built this programme from the ground up, drawing on the latest technology to create a truly unique and immersive student experience.
The online learning environment is not only a window to programme materials, it's an opportunity to connect directly with your lecturers and other professionals like yourself.
Experience Online
Taught by the same leading lecturers and experts as its campus-based equivalent, this programme exposes you to diverse experiences, helping you to develop a deeper understanding of modern business.
The programme is led by Dr Solon Magrizos, whose main research interests include issues related to ethical companies and ethical consumers and more specifically, the broader issues around Corporate Social Responsibility (CSR) implementation, its link to the firms' business benefits and the perceptions and reactions of consumers to firms' CSR initiatives.
For each module you will have a dedicated module convener and seminar tutor, and will be in contact with them on a weekly basis as they guide you through the programme content, discussion activities and assignments.
Meet the faculty
Frequently asked questions
You may have some questions about the programme, the university or the online environment. It's always the way when starting something new. Don't worry; we're here to answer them.
If you have a question we don't cover here, request more information or call +44 (0)800 032 7101.
An Online MBA is both an investment and a challenge. The value of an online MBA vs campus MBA is hard to fully quantify. Research by GMAC (2018) suggests that 79% of MBA alumni thought their degree was personally, professionally and financially rewarding. The findings did not find many differences between the modality of studies.
There are three intakes per year. You can choose to join our programmes in February, June and October.
Though the schedule varies by programme, most online classes, or synchronised tutorials, normally take place once every two weeks. These are often run multiple times during the day, so you can join at a time that suits you. You'll receive a timetable of your synchronous session after you enroll.
Through our online learning environment, Canvas, you can contact your peers and tutors, use discussion forums, connect to live lectures and take part in group work. It's a highly interactive environment, designed to make you feel part of a community.
Some students also choose to use Skype, WhatsApp or Google Hangout whilst studying, in addition to Canvas.
As well as learning from leading lecturers and industry speakers, you'll have access to community boards, instant messaging services, live discussions and one-to-one support from a Student Services Coordinator. We also offer 24/7 technical support should you encounter any difficulties accessing the online platform.
Our online learning environment includes videos and interactive activities for you to learn from. You can also access the university's online library, which includes e-textbooks, journal articles and specialist industry reports.
Find out more about our online learning environment.
Visit our FAQ page