Online MSc International Management
Manage the forces of global business
From currency fluctuations to political volatility, there are multiple factors at play in the rise and fall of global markets. Our 100% online, AMBA-accredited programme will help you understand the issues, tackle the challenges and seek out new opportunities in international business.
For aspiring business managers, keen to make it in today's borderless business world, this global mindset is more vital than ever.
Learn more today
Note: * Required field
Quick facts
65%
international – students studying overseas in more than 60 different countries1
£15,730
total programme fee. This can be paid in full or in instalments of £1,210 every module2
AMBA
first 100% Online MSc to be accredited by the Association of MBAs (AMBA)
Spearhead new business ventures
Targeted at graduates, career changers and working professionals, the Online MSc International Management degree is designed to help you get to grips with the core principles of international business. Through experiential learning the programme hones your practical skills and empowers you take on the demands of modern, global business in a management level role.
Delivered by the triple-accredited Birmingham Business School, this online international management degree features the latest research and theories. Plus, with full immersion in the international student community, the programme promises exposure to diverse global views and international contacts, helping you expand your knowledge and build new opportunities throughout your career.
After graduating, you'll have everything you need to manage the forces at play and stay ahead in a global business environment.
"I did an extensive amount of research before choosing where to send applications. I searched for a university with high standards, a schedule that accommodated my own, a course that was within my budget and a curriculum that would meet my expectations. I have not been disappointed."

– Helena Feibert, Online MSc International Management graduate, Denmark
Career outlook
Today's unpredictable corporate, global business world makes it an exciting time for international business managers. For individuals keen to accelerate a career in this dynamic environment, studying the world's first wholly online, AMBA-accredited MSc is key to setting you ahead of the pack.
Consistently ranked highly for graduate employability, the Birmingham Business School is key to advancing your career in a competitive market. From day one, we'll give you access to employment advice and one-to-one coaching to support your goals and guide you on to the next stage of your career.
Unlock your career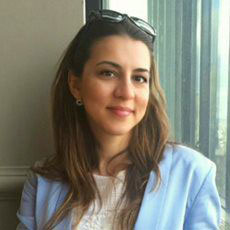 Dr. Veselina Stoyanova, Online MSC International Management Programme Director
Business Webinar:
Watch our online Business webinar hosted by the Online MBA Programme Director, Dr Solon Magrizos & Online MSc International Management Dr. Veselina Stoyanova. This session is a chance for you to gain an authentic feel for what it's like to study the online programme from the Birmingham Business School.
Watch Now
Admissions requirements
To apply for the Online MSc International Management degree from the Birmingham Business School, you will need:
Bachelors Certificate or transcript (or equivalent): In order to assess your academic eligibility, you must upload a copy of your Bachelors or alternative qualification certificate or transcript stating the final overall grade of the qualification.
At least an upper second-class degree from a UK university, or we also accept alternative degrees plus relevant work experience
A reference (this is dependent on your entry mode and may not be required)
CV
A statement of purpose (Optional)
Language requirements (international students)*
* Exceptions to the listed admissions requirements will be assessed on an individual basis.
View requirements
Tuition details
The estimated total cost of this programme is £15,730. You can pay in full or in instalments of £1,210 on a module by module basis. All costs are listed to help you make an informed decision.
More tuition details
Looking to learn whether you meet our entry criteria?
Email your degree certificate (or equivalent) to us. A member of the online admissions team will provide feedback within 48 hours.
Email Degree Certificate
Start dates:
March | July | October

Curriculum
Drawing on the latest business theories, research and practices, the Online MSc International Management degree will enhance your understanding of modern business, while giving you the tools to think independently and resolve unique business challenges.
The programme explores the critical areas of business in depth, covering everything from international marketing and finance to entrepreneurship and economic policy.
Explore the curriculum
"The University of Birmingham applies a great 'hands-on' approach to teaching online – whether through online sessions, via email or even via Skype. There are also great networking opportunities which come from studying online – the most effective I believe is through the various group projects. I have been extremely pleased with the University of Birmingham and their course offerings."

– Safiya Carrol, Online MSc International Management graduate, Jamaica
Programme outcomes
You will complete this programme ready to:
Analyse, address and overcome complex problems in global business
Apply critical managerial skills and master practical applications
Enhance people-management skills necessary for effective leadership
Challenge critical thinking on global business issues
Deploy international perspectives of organisations and management theory
As well as providing the highest levels of convenience and flexibility that 100% online learning offers, the programme is full of interactive elements, like video and group activities, which bring the content to life.
Rather than trying to replicate a campus-based setting online, we've built this programme from the ground up, drawing on the latest technology to create a truly unique and immersive student experience.
The online learning environment is not only a window to programme materials, it's an opportunity to connect directly with your lecturers and other professionals like yourself.
Experience Online
Taught by leading experts, each a specialist in their business field, this international management degree will help you expand your understanding of contemporary business principles and strategies.
The programme is led by Dr Veselina Stoyanova, who is an Associate Professor in Strategy and International Business at Birmingham Business School.
For each module you will also have a dedicated module convener and seminar tutor, who will be in contact with you on a weekly basis to guide you through the programme content, discussion activities and assignments.
Meet the faculty
Frequently asked questions
You may have some questions about the programme, the university or the online environment. It's always the way when starting something new. Don't worry; we're here to answer them.
If you have a question we don't cover here, request more information or call +44 (0)800 032 7101.
Yes, you can. If you submit your application without meeting the academic entry criteria, you may receive a conditional offer. A conditional offer is a provisional acceptance that you meet the criteria before your start date. You will need to provide evidence of this.
We have multiple intakes per year. Contact us to learn more about our upcoming start date.
Though the schedule varies by programme, most online classes, or synchronised tutorials, normally take place once every two weeks. These are often run multiple times during the day, so you can join at a time that suits you. You'll receive a timetable of your synchronous session after you enroll.
Through our online learning environment, Canvas, you can contact your peers and tutors, use discussion forums, connect to live lectures and take part in group work. It's a highly interactive environment, designed to make you feel part of a community.
Some students also choose to use Skype, WhatsApp or Google Hangout whilst studying, in addition to Canvas.
As well as learning from leading lecturers and industry speakers, you'll have access to community boards, instant messaging services, live discussions and one-to-one support from a Student Services Coordinator. We also offer 24/7 technical support should you encounter any difficulties accessing the online platform.
Our online learning environment includes videos and interactive activities for you to learn from. You can also access the university's online library, which includes e-textbooks, journal articles and specialist industry reports.
Find out more about our online learning environment.
Visit our FAQ page