Online MSc International Management
Manage the forces of global business
From currency fluctuations to political volatility, there are multiple factors at play in the rise and fall of global markets. Our 100% online, AMBA-accredited programme will help you understand the issues, tackle the challenges and seek out new opportunities in international business.
For aspiring business managers, keen to make it in today's borderless business world, this global mindset is more vital than ever.
Learn more today
Business Webinar:
We would like to invite you to an Online Business webinar hosted by the Online MBA Programme Director, Dr Solon Magrizos. Learn what to expect from our online programmes and gain an authentic feel for effective online learning from Birmingham Business School.
Quick facts
65%
international – students studying overseas in more than 60 different countries1
£15,210
total programme fee. This can be paid in full or in instalments of £1,170 every module2
AMBA
first 100% Online MSc to be accredited by the Association of MBAs (AMBA)
Spearhead new business ventures
Targeted at graduates, career changers and working professionals, the Online MSc International Management degree is designed to help you get to grips with the core principles of international business. Through experiential learning the programme hones your practical skills and empowers you take on the demands of modern, global business in a management level role.
Delivered by the triple-accredited Birmingham Business School, this online international management degree features the latest research and theories. Plus, with full immersion in the international student community, the programme promises exposure to diverse global views and international contacts, helping you expand your knowledge and build new opportunities throughout your career.
After graduating, you'll have everything you need to manage the forces at play and stay ahead in a global business environment.
10% Early Bird Discount
We are excited to be offering a 10% early bird discount from the first module for the June 2023 intake to those who have accepted an unconditional offer and are registered on the programme by 28th April 2023.
Learn More
"I did an extensive amount of research before choosing where to send applications. I searched for a university with high standards, a schedule that accommodated my own, a course that was within my budget and a curriculum that would meet my expectations. I have not been disappointed."

– Helena Feibert, Online MSc International Management graduate, Denmark
Career outlook
Today's unpredictable corporate, global business world makes it an exciting time for international business managers. For individuals keen to accelerate a career in this dynamic environment, studying the world's first wholly online, AMBA-accredited MSc is key to setting you ahead of the pack.
Consistently ranked highly for graduate employability, the Birmingham Business School is key to advancing your career in a competitive market. From day one, we'll give you access to employment advice and one-to-one coaching to support your goals and guide you on to the next stage of your career.
Unlock your career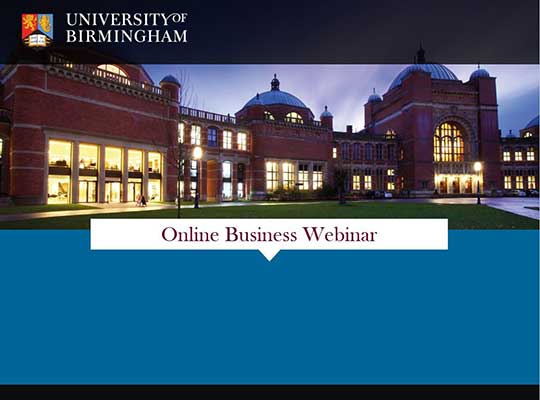 INTERVIEWER: Hello, everybody. Good afternoon and welcome to this online webinar and business case study from the University of Birmingham Business School.
What I want to do now for only about 20 minutes or so, let's just do this little– let's talk about this little case together. And again, doing this will simulate the kind of thing that you would do, either as part of the content, just studying through on your own and posting your views on it into a discussion, or it may be a formal case that you'd work on during the week, either individually or as a group. And then you might present it and discuss it in a group, in one of the Saturday sessions.
A key point I'll make here– if we were doing this within the module, you folks would all be connected with audio. And so we'd all be talking to each other. For the sake of this webinar, you know, it's effectively– you folks are on mute. But as we go through this case study, please type in your thoughts, your answers, your questions into the chat box. And I'll try– I'll try and look at those as we're going through it.
The first four or five slides are really me framing it up. And then I have some questions embedded in there. So just bear with me for a little bit. So, this is about the evolving music industry. And a key point here is that the issues in this case, they could be explored through several analytical lenses. And what that means from the perspective of several different academic modules.
Very much a supply chain view we're going to talk about, very much marketing, some operations management. There's a lot of service operations. We're going to touch on process technology, and it looks at innovation and strategy as well. So, it's an awful lot going on in one of these cases. And that's an important point for you to think of. Even though you do modules on a subject area, as you build it up, you know, effectively you're getting this holistic view of ultimately, you know, how do you run your own business?
So, the case, for those of you who saw it and those who didn't, I guess, it's called pirates. And it's all about pirating music, simplistically. The written case takes a value perspective. And from the point of view of value, mismatches or incorrect assumptions on value.
But really what I'm going to look at in the next three or four slides to frame it, is it's more of a supply chain than a technology perspective for you. By looking at still fairly recent history, I guess– it depends how old you are I think, or what your view is on when history began– of the music industry.
You know, this chart goes back to, kind of 1940. So, change is, you know, continuous. Aren't they? Change is always happening. Back from old, kind of funny gramophones, record players, vinyls, tapes, CDs, and now online, you know, downloaded MP3-type stuff. And as is often the case, you know, you would argue these changes accelerate. The change occurs quicker as time goes by. And who knows what will happen this year and beyond.
But if we look at this, like I said, from a supply chain, a supply network point of view, 60, 70 years ago now there was strong vertical integration. So you had all these individual singer songwriters, you know, musicians, instrumentalists, et cetera, who would work with a recording studio and produce a song that would then go along through quite a fixed process, to be turned into a physical product, effectively, wasn't it, into a disk or a tape or a bit of vinyl. And it will be physically distributed as a product through retailers and to a consumer.
That started to consolidate as things do naturally, over time. Through the 1950s, 1960s, you know, you got bands, you know, more and more bands being formed rather than individuals. So, singers and instrumentalists, you know. Bill Haley and the Comet's, all that kind of thing. But it would start to come together and start to create a supply network, effectively.
That consolidated, didn't it? We've got the Beatles crossing the road. You know so, bands would form. There's songwriters, singers, musicians, instrumentalists, still pretty much though, you know, feeding into, you know, making their product, producing their physical product in a recording studio.
Then all of a sudden, you know, digitisation, digitalisation technology, if you like, appeared. And the supply network started to change and consolidate very, very quickly. So effectively everything that was in the old vertical chain sort of came together, basically, and started to produce this thing that they still distributed left to right. You know. It ended up as a physical product in that point of view, basically. And that carried on. That carried on developing, basically.
That consolidation allowed costs to reduce of developing the product, et cetera. It put perhaps a little bit more strength and power into the producing and the recording studios. And you get more and more singers and songwriters trying to muscle in or join in on that. That was only 20 years ago.
Then all of a sudden, you know MP3 technology appeared, didn't it, under the first thing– it was kind of like– one was the Napster one. And all of a sudden this changed everything, didn't it? This made copying and distribution easy for consumers. By the time the Napster thing appeared, MP3 technology had been around, you know, not well known for at least 10 years.
And so, what did that do? Well it basically introduced this thing that we called disintermediation here. It kind of, effectively, you know, blew straight through the middle, destroyed, changed, challenged, developed, wrecked, whatever word you want to use, you know, that existing supply network. And all of a sudden, you know, things could happen differently, couldn't they? You know, the internet allowed all these people on the left-hand side here to effectively start bypassing the infrastructure, the physical product manufacturing, and go directly to us, to the consumers, via the internet there.
And so almost from nowhere, you know, an industry that had been around for at least, as we said, 60, 70 years in big volume was in trouble almost overnight, wasn't it? It just happened overnight. You could argue, you know, that developed quicker and quicker, didn't it, with the introduction of you iTunes there and your YouTubes and your Spotifys, et cetera.
And you could argue it was almost complete disintermediation there, via the internet. But at the bottom left there, you've got, now as a niche product, and actually making a comeback, isn't it– you've got vinyl hanging on, but a bit like a sports car or an antique now kind of thing. It changes its nature, doesn't it? But the old physical distributors virtually disappeared, haven't they? They're pretty much all gone there. So that's kind of like the history and the supply.
So, it's time for you folks to start thinking now. And the argument here is that this was technology-enabled, wasn't it– technology-enabled disintermediation. The ability to start doing this MP3 stuff, and then use the internet to distribute. It just changed the whole thing.
And so, all of a sudden, from nowhere, there was this mismatch, wasn't there. There was this mismatch between the old fashioned, what was the music industry's value proposition. So, to have these, you know, physical stores and everything where you would go and buy, spend your– whatever it was, I don't know, you know, two pounds, two or three pounds to get an LP or whatever. So, a typical mismatch between what the music industry was set up to do, and all of a sudden what was seen as value through the eyes of the customer. So that was the music industry.
So, a question there, folks, while I have a drink of water– can you think of at least one other example of disintermediation or product or value mismatch? And type it into the chat window. Let's get some ideas going. I can see a couple come in there quickly. So, I'll just hang on. So that will give you folks a chance, more of you to contribute there. It usually takes a few seconds to come through.
Yeah, that was disintermediation in the music industry. What else? What else can you see that's going on? Other examples of similar things going on?
OK, first one there, Sarah. OK, Sarah and Lena coming in together there. Yeah. Oh, here we go. They're all coming now. So, yeah, Netflix and the film industry, definitely, isn't it? And you could argue very, very similar paths, aren't they, similar tracks and things there.
I don't know what happened to Love Film, Sarah. No idea.
[LAUGHTER]
If somebody does, please type in. Let us know. Lena, yeah, books, absolutely. And backing up there from Ronald, I guess, isn't it? Books– Amazon, Alibaba, retail industry. Don't know what you think Lena as well, but I'm fairly old, if you like. I'm not adverse to technology. I'm scared of it in some ways, but I'm not averse to it.
I got myself a Kindle, probably at least 10 years ago, I think, when they first came out. Because I was still traveling in industry all the time and, you know, love reading, but didn't want to cart a book around with me. So, I use my Kindle for a couple of years. But I must admit, I prefer reading a real book. And I've gone back to a real book. And I'll still quite happily go and sit in Waterstones, you know, the bookshop in the UK here– not sure where you are– and look at books and browse and have a coffee.
But, you're right. You're right, isn't it. And yeah, the same, Lena. Anything that's sold online, isn't it, has broken straight through. If you look at the retail thing generally– generally, anyway.
However, wouldn't you consider the platform an intermediary? Yeah, it is. It's changed, doesn't it, you know. That online platform has become the new retail, like we're hinting there. You know, there is some pushback isn't there, against that– very small, I think, with people who actually quite like having a physical product to hold, be it a vinyl record or a book. Or, you know, a lot of people still probably want to go to the clothes shop, you know, try on the dress or whatever, you know, the trousers or whatever.
Yeah, right. Good. A very topical one, isn't it? Physical skill, yeah, to an online skill, you know? As you folks know, you know, pretty much most of the universities now, you know, are offering or seriously considering offering some kind of online, you know, support. Even Harvard, aren't they, to complement there. But yeah, it's a different world, isn't it? You don't need loads of classrooms and physical projection equipment.
Yeah. Car rental and taxi services from Ronald. Good. So, lots of good ideas there. Lots of good thoughts there. Let me just erase those and go back to my clicker here.
Yeah, I mean, there's a few simple ones, again, well-known in this part of the world. You know, Blockbuster, which was a hugely successful business for a long time in the UK, you know, doing old fashioned videos and then DVDs and music CDs all at the same time. It's gone, you know. I think it failed finally. I don't know when. Time goes by quickly, doesn't it? But maybe three, four, five years ago. So typical on there.
But, you know, you've talked of a few of these things I've got on here. Yeah. You know, the movie industry, isn't it, like– was it Sarah? Yeah, Sarah and Lena talked about that, the movie industry.
But look at what the movie industry's doing. Even today, you know, it's holding on. It's trying to hold on to its distribution networks. But as we all do– you know, again, I'm not averse to technology. I have an Amazon Prime account. I have a Netflix account. And I've got good old-fashioned television as well. And I'm being British. I'm paying my TV license for the privilege of watching and listening to the BBC as well.
So, it's confusing, isn't it, from a value point of view, from the customer's perspective. I'm being bombarded with all these things that are quite cheap, you know. Seven pounds a month for Netflix or Amazon Prime, or whatever, and about the same for a television license. But I'm buying them all. It's interesting, isn't. And Hollywood is slow, you know, slow to release film and TV titles.
So, it begs the question, doesn't it, you know, we've got these mismatches. You're talking about them. Yeah, photography. Kodak, isn't it. Absolutely. But how sustainable are they? I mean, you know, what do you think about that? Can an industry carry on having these mismatches? What do you think about that question there? Can it carry on having mismatches? Can it continuously reinvent itself or whatever? I don't know. What do you think? There's a few other things to think about here.
You know, the movie industry, well, it's trying, isn't it? Like I said, it's hanging on to its– you know, trying its best to hang on. And it's got a lot of power, hasn't it. You know, if I say Hollywood, generically, and by that, I mean the industry's in every country or centre all around the world, but, you know, they have lot of power, don't they? They've got a lot of money, a lot of resource, a lot of experience. They've got a lot of long-term contracts and things like that with, you know, with actors and things.
And they're trying to lobby and create legislation actually, get laws in place to try and protect and sustain a broken business model. So, think about that from a business perspective– trying to spend money to protect something that's already broken. In the short-term, you know, that's succeeding right now, they probably will do. But in the long-term, the good old people, you know, I call them the geeks and the hackers, people who embrace technology go looking for better ways to use it. We'll kind of get around it. Blockbuster's no more.
And the question there, you know, what's next? Any others? You mentioned photography, haven't you, car rentals, taxi services, et cetera, things like that. But yeah, one that I can see– I spent quite a lot of my time in industry working within the automotive industry, but certainly physical card dealerships, I think they're under huge threat. You know, again, the entire massive industry of selling cars is funnelled through an assumption that people will buy one from a dealership. And then they're still there. You know.
But do you need those? Do you need those? You know. You can buy a car online. You've probably still got to take it somewhere to get it serviced. But who knows? And I guess you could also maybe generically comment on this, like, you know, the high street, generally, certainly in the UK some of you said before, didn't you. Anything that sold online, you know, the high street is a value mismatch, isn't it anymore.
So, question there at the bottom then. So, this kind of switches gears slightly. You know, why do you think organisations get into this kind of situation in the first place? And why do they continue to live with those mismatches, between their concept of value and their customer's concept of value? What do you think? So, two or three questions embedded there for you. And I'm just going to pause for a few seconds for water and let you think about that. I've got one or two quick answers coming in, but I'll hang on for others.
Why do they get into this kind of mess? You know, how can you suddenly– how can you be so, kind of, I don't know, whatever the word is– you know, from a business perspective, ignorant or blind to what's happening around you? A very, very serious question. Every organisation I think faces this at some point. So, it's a real key kind of, you know, MBA, MSE type thought process there. Why do they get into this kind of mess? What do you think? And once they're in it, why do they continue to live with it?
There are a couple of things here. So, Sarah, yeah. Yeah. Here we go. Yeah. Failure to innovate. Yeah. I guess that makes sense, Sarah. I guess I would push it back to you and say, why, though? You know, you'll find, you know, why is probably the most common question that you get asked, as a master's level student in the UK. You know, why? Why do they fail to innovate, you know? They can see the same things that the consumers can. And everybody who works in a business is a consumer as well, probably. So why do they get in a mess?
Yeah. So stuff from and Ronald and Lena, yeah. Must keep up with changes in customer desires. Not reacting quickly or leading on developments. Not invest in an R&D. Competitor monitoring. Too, ah! Good. This is good. It's from Lena now. So, yeah. Too big, too inflexible to change quickly enough. Good. I like that. That's starting to get a bit more critical there in your discussions, isn't it?
Yeah. You know. There is this thing about, you know, small is beautiful from a business perspective. Big, lumbering conglomerates, once they decide to do something, have got the assets, the resources, the firepower, if you like, to do it. But it can take an awful long time for them to figure it out. And sometimes they get into big, big trouble, don't they?
And, yeah, I like that– and becoming comfortable and complacent. Selling the cash cow. Good. So, there's some good counter strategy and marketing type stuff coming in from Sarah. Sarah there. So good. You folks are thinking about this. Good stuff. Good.
Let's have a quick look then. Well a few reasons, just high level– there's my why comment at the top there. Yeah. Silo mentality sometimes as well. You know, very key, again, from the M-level studies. Math manages in one part of an organisation. They may not necessarily look out. They might not be rewarded, based on what the organisation's doing, but on what they are doing as individuals.
And it might not all be joined together. You know, maybe excessive marketing spend has occurred on one particular channel. And, you know, the company's compelled to keep it going for, with hindsight, what would be silly reasons. But they need to do it. I can experience that myself. I've been there.
And yeah, size, which I think is similar to what you folks have been talking about here, isn't it? You know, big, lumbering, slow businesses do whatever they want once they decide. And monopoly power. Yeah. Very much so, monopoly power.
OK. A couple more other thing here as well. Decision-making disconnected from use. That's a bit more of the silo thing as well. Or people– you know, powerful people quite often, who get a bit blinded or blinkered, you know, by loving or hating something. So, Steve Jobs, you know, obviously a great guy, you know.
The driving force behind the whole Apple thing. You know, you've seen the film, you know, very much a micro-manager. If it's something he wanted, he was going to do it, basically. So, you know, the software thing, the keynote thing, Jobs knew and loved them. The app received much design attention, very successful.
But apparently– I'm taking this from one of my colleagues– he hated– he didn't use the iCalendar basically– and application that was part of the Apple thing. Just didn't use it. So, it didn't get the design attention and it fell behind, you know, other functions, maybe the Outlook things and stuff like that. So, it just shows you, you know, an influential person can make things happen or can make things not happen as well.
So, a lot stuff going on there, just to wrap up really. Organisational inertia– the innovator's dilemma is what we've been talking about. It's really difficult for organisations to do things differently if they're set up, if they're established to do things a certain way, having factories, having machines, having jobs, having skill, having physical presence. Obviously, they spent millions on building something or creating a message. You know, just changing process. It's hard for them to do, basically. And the resource allocation processes is decisions are often more limited than the managers would like. I'm sure we've all experienced that. Or trust me, you will do. You will do.
And then customers– you know, arguably with technology, customers are way more powerful now than they ever were. And that's increasing by the day. Their ability to shop effectively anywhere in the world at anything to do. You know. So it's more control. Customers have more control and more influence on there, basically.
So final question really. What can organisations do then to avoid falling into all this? What can you do differently? How can you sort this stuff out? What can you do? Last question. Be willing to evolve, trend-watching. Yeah, invest in technology. It all makes sense, doesn't it? Sarah talking there, probably echoing the views of a lot of you.
Easy to say, isn't it, but it's not hard to do. Because– sorry. It's harder to do than it is to maybe just than you might think, isn't it? You know, you've got to make that decision to investing in maybe or the next technology. It's risky, isn't it? You know, your accounting people, your compliance people might be worried about that.
Good. Yes. Vision, you know, lead, et cetera, isn't it? Lead– make sure you're out in the market, I would say. Lena and everybody. You know, make sure you're out in the market, and understanding what's going on. You know.
So, hiring the right people, the young people, maybe people like you folks, you know, who are kind of on the first half of your careers and way more connected than maybe someone like myself. But yeah, be out in the market. Understand what's going on, basically. And a lot of stuff there that you would do in your marketing and your strategy.
But be careful. You know, talk to customers. And because the world's changing so much quicker, you know, market research will tell you what people did and what they thought yesterday. It might not tell you what you can do tomorrow. So, it's a hard challenge to do.
OK. But the use of market research thing, I think there is– it is key. As is what's Lena's finishing there– create structures that reward managers for innovation. So, yeah. Change people's way of thinking and views and stuff like that.
OK. Good. Good discussion. You see how quickly time goes there. There's obviously a lot more going on. That's just a little snapshot of something that you may happen, you know, on one of your modules, the kind of thing you'll be talking about, that you'll be discussing together. So, thanks for your contributions. Thanks for your input.
Business case study
In a webinar hosted by the University of Birmingham and Senior Teaching Fellow, Andrew Parker, gain an authentic feel for what it's like to study the MSc International Management programme online. Watch this exciting case study on the evolving music industry and learn how disruptive technologies can impact businesses – both large and small.
Admissions requirements
To apply for the Online MSc International Management degree from the Birmingham Business School, you will need:
Bachelors Certificate or transcript (or equivalent): In order to assess your academic eligibility, you must upload a copy of your Bachelors or alternative qualification certificate or transcript stating the final overall grade of the qualification.
At least an upper second-class degree from a UK university, or we also accept alternative degrees plus relevant work experience
A reference (this is dependent on your entry mode and may not be required)
CV
Language requirements (international students)*
A statement of purpose (Optional)
* Exceptions to the listed admissions requirements will be assessed on an individual basis.
View requirements
Tuition details
The estimated total cost of this programme is £15,210. You can pay in full or in instalments of £1,170 on a module by module basis. All costs are listed to help you make an informed decision.
More tuition details
Looking to learn whether you meet our entry criteria?
Email your degree certificate (or equivalent) to us. A member of the online admissions team will provide feedback within 48 hours.
Email Degree Certificate
Curriculum
Drawing on the latest business theories, research and practices, the Online MSc International Management degree will enhance your understanding of modern business, while giving you the tools to think independently and resolve unique business challenges.
The programme explores the critical areas of business in depth, covering everything from international marketing and finance to entrepreneurship and economic policy.
Explore the curriculum
"The University of Birmingham applies a great 'hands-on' approach to teaching online – whether through online sessions, via email or even via Skype. There are also great networking opportunities which come from studying online – the most effective I believe is through the various group projects. I have been extremely pleased with the University of Birmingham and their course offerings."

– Safiya Carrol, Online MSc International Management graduate, Jamaica
Programme outcomes
You will complete this programme ready to:
Analyse, address and overcome complex problems in global business
Apply critical managerial skills and master practical applications
Enhance people-management skills necessary for effective leadership
Challenge critical thinking on global business issues
Deploy international perspectives of organisations and management theory
As well as providing the highest levels of convenience and flexibility that 100% online learning offers, the programme is full of interactive elements, like video and group activities, which bring the content to life.
Rather than trying to replicate a campus-based setting online, we've built this programme from the ground up, drawing on the latest technology to create a truly unique and immersive student experience.
The online learning environment is not only a window to programme materials, it's an opportunity to connect directly with your lecturers and other professionals like yourself.
Experience Online
Taught by leading experts, each a specialist in their business field, this international management degree will help you expand your understanding of contemporary business principles and strategies.
The programme is led by Dr Veselina Stoyanova, who is an Associate Professor in Strategy and International Business at Birmingham Business School.
For each module you will also have a dedicated module convener and seminar tutor, who will be in contact with you on a weekly basis to guide you through the programme content, discussion activities and assignments.
Meet the faculty
Frequently asked questions
You may have some questions about the programme, the university or the online environment. It's always the way when starting something new. Don't worry; we're here to answer them.
If you have a question we don't cover here, request more information or call +44 (0)800 032 7101.
Yes, you can. If you submit your application without meeting the academic entry criteria, you may receive a conditional offer. A conditional offer is a provisional acceptance that you meet the criteria before your start date. You will need to provide evidence of this.
There are three intakes per year. You can choose to join our programmes in spring, summer or autumn.
Though the schedule varies by programme, most online classes, or synchronised tutorials, normally take place once every two weeks. These are often run multiple times during the day, so you can join at a time that suits you. You'll receive a timetable of your synchronous session after you enroll.
Through our online learning environment, Canvas, you can contact your peers and tutors, use discussion forums, connect to live lectures and take part in group work. It's a highly interactive environment, designed to make you feel part of a community.
Some students also choose to use Skype, WhatsApp or Google Hangout whilst studying, in addition to Canvas.
As well as learning from leading lecturers and industry speakers, you'll have access to community boards, instant messaging services, live discussions and one-to-one support from a Student Services Coordinator. We also offer 24/7 technical support should you encounter any difficulties accessing the online platform.
Our online learning environment includes videos and interactive activities for you to learn from. You can also access the university's online library, which includes e-textbooks, journal articles and specialist industry reports.
Find out more about our online learning environment.
Visit our FAQ page