Online student experience

Introducing online learning
Distance learning involves a whole lot more than just putting campus programmes online. Our 100% online programmes have been purpose-built from the ground up to harness the full power of the technologies available, involving everything from cloud-powered collaboration to interactive live lectures. The University of Birmingham is ranked 4th best university for online learning in the UK Uswitch 2022.
"Being an online student, I can confidently say that choosing the University of Birmingham for my studies has been one of the best decisions I have made. The University's world-class reputation and rigorous curriculum have challenged and expanded my knowledge, preparing me to take on real-world business challenges with confidence."

– Alexander Oketch, Online MBA Student, Kenya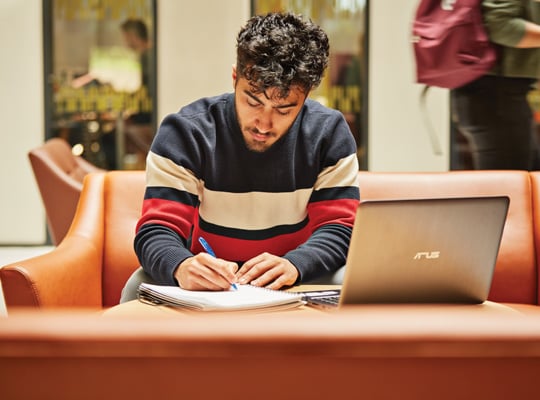 Benefits of online learning
As well as providing the flexibility to study alongside your current professional and personal commitments, online study unlocks access to world-class teaching, contemporary research and an international community of like-minded students. It's your chance to take your learning beyond the traditional classroom setting, with leading industry guest speakers, interactive case study assignments, discussion forums, simulations, group work activity and live video lectures.
Apply your learning in real time and develop skills in an area relevant to your professional ambitions, without having to take a break from work.
Browse programmes
The University of Birmingham is a long-established provider of distance learning postgraduate education and currently offers a broad choice of 100% online programmes across Business, Biology, Education, Government and Law.
Browse Programmes
Technology and support
Offering the flexibility to study at a time and place that suits you, our online learning environment draws on the latest techniques to ensure you're fully engaged with the content, your peers and your lecturers.
Learn More
"Studying online gives me the benefit of developing my career without having to leave my responsibilities of managing my own company. It has helped me as a person and it has helped my business. For every module I have studied, I have done something to improve my business."

– Florence Britton, Online MBA graduate, UK
Online or on campus?
Studying online with the University of Birmingham gives you access to the same acclaimed lecturers, research and content as on campus. As well as matching the academic strengths of their campus-based equivalents, studying 100% online allows you to make use of the latest digital learning techniques, helping you advance your knowledge and enhance your career potential on your terms.
Tips for successful online learning
Make your own deadlines: Balance your study deadlines with your other commitments to avoid conflicts and mentally adjust your assignment due dates accordingly, aiming to submit your work well in advance.
Stick to your schedule: Create a spreadsheet with all your commitments, including your work shifts, family time and study periods, factoring in any transit time. It's a good idea to schedule learning time at the same time each week, to give yourself a structure. Be sure to make the most of any downtime too.
Get help whenever you need it: Don't be afraid to ask for clarification if you do not understand anything being discussed during lecturers. It helps us to track your study needs more effectively. Asking questions is a perfect opportunity to build relationships with tutors or module leaders.
Make use of the available online tools: The resources and services we provide have been developed with your needs in mind, so please use them. Visit peer- and instructor-led discussion groups, ask your lecturer questions and discuss the week's programme content with peers.
Seek support from friends and family: Though they may not all understand the content, talk to your friends and family about your assignments. The process of articulating an idea is a great shortcut to understanding. If possible, arrange study sessions with other online students. Our forums contain information to help you determine who is nearby.
Prepare your study environment: Find a quiet room with a desk, a comfortable chair, good lighting and internet access. Be sure to keep your primary learning tool – your computer – clear of distractions. To help you learn, it's important that your study space is kept separate.
Set yourself up for online working: We recommend that you use the cloud to store your documents online, such as the free Google Drive service. It is often possible to link a cloud storage service to your programme platform. By making use of the cloud you'll have a backup of your assignments in the event of hard-drive failure, plus you'll be able to access your assignments from any machine.
Take a break: A change in study space can help boost creativity or free you from mental blocks and study fatigue. Change your environment at least once a week as a treat. For example, walk to a café, public library or other quiet space, getting some fresh air on the way.
Frequently asked questions
Despite its clear benefits, the idea of studying online may be a little daunting at first. With that in mind, we've put together answers to some of the more common questions we're asked about online learning.
Though the schedule varies by programme, most online classes, or synchronised tutorials, normally take place once every two weeks. These are often run multiple times during the day, so you can join at a time that suits you. You'll receive a timetable of your synchronous session after you enroll.
We do offer the option to switch; however, it depends on a number of factors, including the similarity of the programmes and the stage you're at in the current programme setting. If you'd like to discuss switching from a campus-based programme to online, please contact our Admissions Team.
We recommend 12–15 hours of study per week. The time required will depend on your particular way of studying and the amount of free time you have.
For many students, online study is the only way to enhance skills and further a career, since they're unable to attend a university campus due to distance or lifestyle commitments. For others, online study is just a more flexible, more cost-effective way to study.
Studying online with the University of Birmingham gives you access to the same acclaimed lecturers, research and content as our campus-based students, so you're never missing out as an online student.
As well as learning from leading lecturers and industry speakers, you'll have access to community boards, instant messaging services, live discussions and one-to-one support from a Student Services Coordinator. We also offer 24/7 technical support should you encounter any difficulties accessing the online platform.
Our online learning environment includes videos and interactive activities for you to learn from. You can also access the university's online library, which includes e-textbooks, journal articles and specialist industry reports.
Find out more about our online learning environment.
Studying online allows you to learn around your existing commitments from anywhere in the world. This flexible way of learning means you can choose your study space and overcome some of the geographical and financial concerns of campus-based study.
Visit Our FAQ Page