Online Masters of Public Administration (MPA)
Lead positive change
The world of public service has changed, and with it the demand for a whole new set of skills and way of thinking. By introducing you to the latest, pioneering public service practices, strategies and global perspectives, our 100% Online Masters of Public Administration (MPA) will prepare you for today's public sector challenges, equipping you with the tools to effect positive change, wherever you are in the world.
Learn more today
Quick facts
60%
international – students studying overseas in more than 50 different countries1
£13,500
total programme fee. This can be paid in full or in instalments of £1,040 every module2
#1
the UK's leading academic centre on local governance and strategic public management
Make a difference to your community
With the integration of the likes of AI and 'big data' into public service systems, today's public servants need to be more forward-thinking and tech-savvy than ever. Packed with the latest ideas from around the world, with topics attuned to the current direction of the public sector, this Online MPA is all you need to progress in this dynamic field.
The Online Master of Public Administration is taught through the Institute of Local Government Studies (INLOGOV), the UK's leading academic centre for research and teaching on local governance and strategic public management. It's this cutting-edge research and practice-based knowledge that will help you learn the policies and practices to make a genuine difference to people's lives.
These same skills are also key to furthering your career, whether that's a progression within an existing public sector role, or a move into a senior government or agency position, either at home or abroad.
"This MPA course has helped me to identify gaps through process mapping, defining and resolving problems faster and more effectively. It has given me the scope to view local government through wider lenses and a future towards e-governments, greater public involvement and co-production of services and delivery."

– Ana Soochit, Online Master of Public Administration graduate, Trinidad
Career outlook
We're committed to helping you develop the skills you need to advance your career to a level where you're able to make a greater impact on people's lives. Whether you're looking to progress in the public or voluntary sector, or in a consultancy role, the Online Master of Public Administration prepares you for work in various areas of practice and policy.
For individuals with the right level of education and global expertise, a number of career choices are available, such as senior policy officer, social services manager and even a member of parliament. Backed by the skills and the know-how, you'll have all you need to drive public sector efficiencies in your future career.
Unlock your career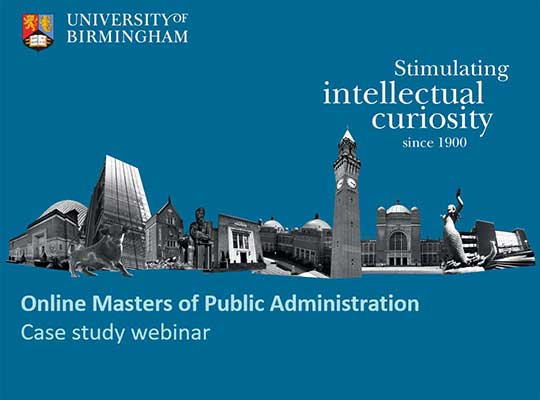 PHILIP WHITEMAN: Oh, good afternoon and welcome to the University of Birmingham in what looks like a sunny summer's day. It's unusually not raining here in Birmingham, as it often is. I'm not quite sure where everybody is attending from in terms of this particular session, but my name is Philip Whiteman anyway. And I am the programme director of the online MPA, and I also teach on a number of modules that are delivered as part of the course.
As we go through the session, I will try and answer any questions that you raised within your question box on the webinar and respond in the best way that I can. Also, I've got a colleague, Jessica, who may interject at some stage. She's working off another computer at the moment. You can't see her, but you can obviously see me. And she's here to help support the programme.
So the University of Birmingham is, as you know, a UK university. I've been a lecturer here for a few years now. I've undertaken research into performance management measurement. Also into the turnaround of failing organisations– specifically local governments, health service organisations, so on and so forth. They're organisations that have been failing in delivering good quality services and for some reason or other have been drawn to government's attention and required instant change, instant improvement. And of course, performance measurement underpins that.
I'm not a traditional academic. I come from a practice background. Prior to my career in academia, I also worked within the government of the UK and also in a local authority. And I've got the logos on the slide there.
The thing I find interesting is, where did this come from? You see from this particular side, this is a Google search on this separating phrases performance management– that actually this is a relatively new concept in organisational discourse. That's according to Google. But of course, I think that would be a bit of a misrepresentation because there are antecedents to the evolution of understanding performance, the success in service delivery, the systems that we use in terms of judging criterias of success within organisations, and how we use that information to form policy.
I go into this in greater depth on the actual module, but this is just a couple of aspects– if we look back historically as to where we could see the evolution of data and how it informs policy, how it informs decisions. Late in the 19th century, Charles Booth in London, for example, wrote a book called the Life and Labor of the People of London. And he described, as you can see from the map there, where rich people lived, where deprived people lived, where squalor existed within London, and how is that used. Well, this was important data for the city of London authorities at a time in terms of investments to improve sanitation, to improve health, to improve welfare, to try and improve employability and employment of the citizens of London.
And this could be used as a measure over time. We could see to what degree of success had the city authorities address those particular problems. That was a very crude system based on social statistics. They certainly weren't using the concepts of performance measurement or management, but it was there as an antecedent.
We saw the evolution of classical approaches. Now, business students might have heard of Frederick Taylor, Taylorism or scientific management, time and motion studies, or Max Weber's key publication on bureaucracy from the 1920s. Bureaucracy, which, of course, informs what many of us do in public service organisations. We are part of a bureaucracy.
In the bottom right hand corner, you will see a picture of Taylor. But, of course, then you see the assembly line of Henry Ford's motor works. But of course, what they could do was to measure how long it took to produce something, the systems, the mechanisms, and the processes by which outputs could be achieved.
Now, public service organisations weren't immune from the principles and the underlying processes of consumerism– sorry, production, production lines. The 1930s and '40s, a key publication influenced both the UK, Canada, and the US was the municipal handbook of Municipal Accounting, which helped develop efficiency surveys to think about how bureaus, the bureaucracies, could improve their delivery, could actually provide costs to the delivery of products, and how effective those organisations actually worked.
I'm not sure where the participants' are from, but some of you may come from countries where performance-based budgeting is an underpinning system that helps you to make decisions. In the UK, it's not used greatly, but it is used elsewhere. And this has been another evolution within what I refer to as the "performance antecedents."
Public management students will come across this publication time and time again. It's called Reinventing Government, published by two academics in the US– David Osborne and Ted Gaebler. Both of them underpinned a new concept, sometimes referred to it as the "New Public Management" or NPM. This will come up time and time again in all the modules across the MPA programme.
But if you've worked within government within the public sector or even within NGOs, the influence of NPM and the ideas of Osborne and Gaebler has been profound. Seeing the idea of contracts in terms of marketization, the breakdown of the traditionally large bureaucracies into small units, and the rise of the mixed market as such in the way in which we deliver services. So typically, services may not be delivered by public servants, but on behalf of public servants and governments.
This started to evolve in the '80s and '90s. Somebody said, would you recommend buying that book if you were starting the programme? Suzanne again, there are plenty of– we have plenty of publications we referred to– Reinventing Government. It is an interesting read, but you'll be provided with more directive reading as you go through the programme, but it is a good book nonetheless, if you want to get some of the foundations and ideas about NPM.
But part of the idea was the pressure to adopt performance strategies, and we saw the rise of performance indicators. I put a concept in there, steering and rowing. Steering are basically the policy makers that set the trajectory for public services, and rowing is either a private or public service organisations delivering on behalf of decision makers. There's the idea of separation of those two communities.
Now, if you're steering, you want to know how well the metaphorical boat is actually rowing– how fast it's going and which direction it's traveling in. So performance measurement was an integral part, an important part of the implementation of new systems of public management.
We as individuals, we're probably familiar with the different types of performance measurement– the impacts, the outcomes, outputs, processes, and inputs– what we're attempting to change, what we wish to achieve, what we produce or deliver, what we do, and what we use. These are all the sorts of metrics that we can use within performance measurement.
I've got a quick question here, and there's a poll of which you can answer. To what degree– it's– I can't even read my question. I've got something in the way of it here. That's it.
How do you view the effects of performance measurement on public services? It does help if I actually proofread this slide sometimes. Please just respond to those poll questions. It's only a quick and dirty, and then I'll read out the results in a few minutes. So I think what I'm trying to tease– so it's to get you to think about how– do we question the concept of performance in this particular– in the way in which we review it?
What I've done here is to provide a case study within from the UK, the NHS, which has been a heavy user and significant user of performance measures in our country, ones of which have a high profile within political and public discourse in terms of political parties that trade arguments with each other on how successful either of them are with a state run universal health service. But equally amongst service users and patients on the success and the accessibility of health services.
So this one, for example, shows the two week– the waiting time for seeing a consultant following the referral by a general practitioner medical doctor over time. And we see a decline in the speed at which people are referred. And this is used as an important metric in terms of trying to understand whether people are being seen quickly enough to do– especially when we have critical illnesses as such.
Another metric here is, how has the proportion of people starting treatment within 18 weeks of referral changed over time? So again, we see a decline in terms of that issue of treatment to referral. Again, an important metric that sort of shows a decline in health service performance.
One of the key performance metrics, which the government is actually going to change, possibly because it is actually bad news, quite often politically, is the metric that relates to the time that patients have to wait from admittance to treatment within an A&E unit– an accident and emergency or casualty unit. So the point from when they enter to the point of treatment.
Now this is an important one because not only is it used as a tool for judging the success and efficiency of hospitals, I like to say it's important for different reasons, because it actually starts creating gaming and perversities within those particular hospitals, that actually the incentive — isn't necessary to improve services but to hit a target, which is actually a negative reason for performance.
Somebody has put up here, an ambulance waiting times. Yes, this is an important one. Ambulance waiting times are impacted by accident and emergency unit waiting times. So for example– OK, I'm going to give you an example of gaming now.
If you've got a long queue in the accident and emergency unit, one way of actually trying to improve your statistics within that A&E unit to reduce the chance of you exceeding the four-hour waiting time is to keep patients waiting outside the accident and emergency units in an ambulance and they receive treatment there or are just kept in good condition until they are admitted to the particular hospital unit. That is a perversity, and that impacts upon the ability of ambulances to actually respond to their own deadlines and call out times as organisations.
OK. I'm just going to see if I have any reflections on poll questions. OK. I've got 88%– that poll we had a few minutes ago– 88% said it yields positive results, and 13% said it provides limited results. OK, so there's quite a positive view of performance measurement, and I think that's fine.
I sometimes sound like a glass half empty when I talk about performance. I had my reservations, but what I try and do in the performance measurement and management module, if you study and progress– to make you think critically about how it actually operates, and if we think critically about performance measurement, then we can start targeting performance measurement and management and think about how we can avoid the problems that it creates.
So who uses performance measures? Well, Chris Pollitt, an academic in the area, has developed a typology of what he says in a rather gender-biased perspective, middlemen and stakeholders within organisations. So middlemen are senior officials and programme managers, while politicians and service users are regarded as stakeholders.
The distinction is useful in that it opens up the question of who is most liable to gain in performance measurement. Is it middlemen or stakeholders? And in all probability, it's actually likely to be middlemen, as managers are often the individuals who develop and implement performance indicators, even if the stakeholders– that's the politician or you as the service user– is the beneficiary.
We also have regulatory institutions in some countries, or it might be central ministries in others, that will provide oversight on performance success. So the programme manager was going to be responsible for providing informational setting targets. The senior official is the person who establishes the targets across the board, which is subservient to the politicians. There's the supplier or the agent who monitors the agency's performance and will report frequently on the indicators. Then there's the front line public servant, who reports detailed personal performance data, external regulator, and the regulatee.
Now why do I use the– I use that typology of stakeholders and middlemen. Well, it's important in terms of what we draw upon– something called "principal agency theory." And principal agency theory is spoken about in greater depth elsewhere within the programme. And I'll only briefly visit it here.
It comes from an economic theory called "public choice theory," and it's the way in which we have P, principal, or A, agency. And both have and both operate with a degree of self-interest. So it's based on a transactional relationship.
Now just think back to that thing I spoke about a few minutes ago called the new public management, where I said about steering and rowing. This encapsulates that. So here, the principal is the person that steers policy, and the agent is the person who is doing the rowing, the delivery of a service.
The self-interest of the agent is to receive the best budget possible. And that might be payment as a contract so it may be budget within the organisation. But their self-interest is to actually demonstrate that they are successful at performing to the principal.
The agency has a vested interest, of course. If they perform badly, they may be punished, and that might be reduction in budget. So the incentive is to provide positive results.
Now, they can obviously do that as honest individuals, by improving the success of their particular agency. Or it might be about deliberately deceiving the principal. The problem the principal has is that there's an asymmetry of information. The agency has the details. They know what's going on the ground, whereas the principal is relying on information. It has to be on a degree of trust. So the agency, the incentives there are to deceive the principal. If anybody's got any questions, please do add a few questions.
Now, there are side effects of performance measurement. And I've divided them into two categories– gaming and perversities. Now perversities are unintended consequences, whereas gaming is deliberately trying to cheat the system. So you may deliberately manipulate the data that you're using.
So, for example, let's go back to the accident and emergency unit. It may be providing data to the inspectors, to the people who receive performance information that it is untruthful. It is deception. Or it might be just twisted.
And Smith describes this as fraud. Hood and Bevin actually have come up with this idea of ratcheting. Now ratcheting maybe the system by which you under-report your data for this year– and this might sound quite unusual. Why would you do that? You might be wanting to promote yourself more than you are. But if you under-report your real data this year, then next year, you're not going to be provided with stretch targets that are unachievable. So in fact you're delaying, you're postponing stretch targets, the idea that you should do better next year.
In terms of perversities, well, there may be over or under-representation of indicators, because people collecting– you're only as reliable at reporting data on the ability of people to collect that data. You may have mushrooming– the explosion of indicators across all services, across all fields of daily life within public services. In other words, if it moves, you measure it. But do we really want to measure everything?
There's pollution. Now this might be not pollution as in an environmental sense, but pollution with indicators that are useless, that don't have the intended consequence, that actually are just an annoyance that get in the way of daily work, for example, that are just a waste of resource. Or they contaminate the data that is being provided because they're poorly designed.
Hans de Broijn, a Dutch academic, said that in some organisation, measurement may become the prevailing value. So in other words, measurement is more important than the actual value of what you're delivering. So the health service work of a teacher, the social care worker. Rather than thinking about the service user or basing their judgments on professional values are doing what they do because it is measured. That's what counts. That sort of develops into a myopia.
And Van Dooren suggests that we also can have complacency towards the adequate, whereas we start designing services so they are adequate. Not excellent, but adequate.
Also, yes, one question from Susanna– do you have a bad example of performance management– for example, a real case? I wish– if I had a pound for every one I've been given, I'll be a very rich person. But just to give you an example of that, Susanna, we had a PhD student here who was an ex-chief inspector from the West Midlands. He's actually a case study presenter in one of the actual modules on performance.
And he talks about how the West Midlands police deliberately released report to crime indicators to improve public perception on their success as a law enforcement agency. So, difficult-to-detect crimes would be reclassified– if somebody made a complaint on a crime that was difficult-to-detect, that would be reclassified to a crime that would be easier to detect. So for example– and this is a rather horrific example– people reporting rape might have that downgraded to a sexual offense because a sexual offense is a lesser crime than rape in the eyes of the law and in terms of performance. So therefore, the incentives to say, well, we've got a low problem with rape in this particular locality, we've reduced that particular crime. So they changed the classification of a crime.
Now, this was such a shocking piece of work, this PhD, that it was significant enough to gain parliamentary attention. And the Office of National Statistics in the UK have qualified all crime statistics before 2010. So if you ever see the news and it talks about crime statistics, it was a qualified before 2010.
There are plenty from the health service in terms of deliberately manipulating indicators. I mentioned the one earlier about ambulances. It could almost be laughable, but it is actually quite serious. There was an indicator on reducing trolley waits in hospitals. People were being to accident and emergency units who were going to be referred to a ward, but there weren't sufficient beds in a ward would be placed on a trolley in the corridor, waiting for a bed to become available. So government, introduced an indicator– reduced trolley rates.
The way in which one hospital responded was to simply send a person around with a spanner to remove the wheels off the trolleys so they were no longer classed as trolleys but classified as beds. Now, that's almost laughable, but actually it is a serious dissection in terms of success– performance within that hospital. They weren't achieving what they were meant to be achieving.
And this leads me on to the side effects of performance measurement. Now this table was developed by two academics called Bevan and Hood and it was actually based on another piece of work. And they classified public servants into four categories– saints, honest triers, reactive gamers, and rational maniacs.
Now, I worked in a local authority that I would describe as an honest trier. I know people who broadly shared the goals of central controls, on principal, who do not try to show their shortcomings, but do attempt to spin data in their favour. In other words, promote their activities in the best possible light.
You'd have saints who are the honest brokers who are just open and honest about every failing possible. You'd have reactive gamers– people who broadly shared the goals of central controllers. But game that system if there is benefit in doing so. That benefit might be for a financial reward, for example, or less inspection or less, reduced transparency to the principal. Whereas you might get rational maniacs, and we put the West Midlands police in that category, the example I've just given about, who do not share the goals of central controllers and aim to manipulate the data to conceal their daily operations.
Now then, I'm just going to see if this will hopefully work– if you just bear with me. I'm going to ask a question, if somebody can answer please. Can you see my screen?
Oh, good. Yes, Sarah, this is of Knights and Knaves 7.1.2. And what I'm going to do is, I'm going to nip down to the bottom here. And I mentioned to you the former chief inspector, and he uncovered various forms of gaming within the police service. He's actually going to describe the characteristics of gaming that he exposed within the police service.
[VIDEO PLAYBACK]
– When I was aware of the various gaming practices whilst I was within the police service and started to study them in more depth and tried to get a better academic understanding of them when I'd left. And there were four categories which I was able to clump the various behaviors into. The first one I categorised is cuffing. That's making things disappear. It's after the magicians art of making things disappear up your sleeve. And that was making crime– reported crime– disappear basically, so that it never appeared in the official books. So that was one thing.
Another one was nodding. This involved collusion between officers and convicted offenders, where they were being fetched out of prison and then go around with the police officers and nodding at various sites where crimes may or may not have been committed by them. And various inducements were being offered in order for them to engage in this type of behaviour.
The third one was skewing. That was putting resources in the areas where performance was being measured at the expense of other areas, which were probably more important and more critical– for example, child exploitation, sexual exploitation, but was one of those negative outcomes that we're now seeing come to the fore.
And the fourth type is what I'd categorised or called stitching. This is where suspects would be named and the offence that they are being accused of will be recorded as they were responsible for it on police records. Therefore they would have a police record without them ever having been challenged about that behaviour. So they will never see that they did have a police record, which they would be totally unaware of.
The other side of this is that their offending behaviour, if they were guilty of it, was never challenged. in a number of cases. In a number of cases they then went on to actually kill some vulnerable people, like young children with the cases that I catalogued.
The main measure of police performance is actually recorded crime nowadays– not so much detection rates. So any incentive to manipulate the figures would be around cuffing. So it is that type of gaming behaviour that presents the greatest danger. One proposal by the home office to try and address skewing, this is concentration of effort on less minor crimes, is to actually create weighted performance measures, where robberies count for ten, a theft of a milk bottle, one, this type of approach. Then this tends to just increase the incentive to make the more serious crimes disappear. So until we deal with gaming effectively, any performance measure that your use in performance management– system they use is doomed to failure.
There is, in fact, two-fold threats to gaming. One is to the actual service itself, in that people are tempted to achieve results by dubious means. And that, in effect, corrupts the service and encourages officers to engage in corrupt behaviour to be promoted and rewarded for such behaviour. That in the long term results in a service that is unsatisfactory to the public. Because at the end of the day, it's the public who suffer if crimes are not investigated or offenders are not brought to justice, because such behaviour actually makes the police force look better.
[END PLAYBACK]
PHILIP WHITEMAN: Now that was Roger talking about the problems of performance. Now, I don't want to give the impression that I am actually anti-performance. I am very, very much pro-performance management. But I think, when we look at performance management, we have to look at it as a value of learning and a value to producing positive outcomes, and not necessarily as a culture whereby targets of terror are implemented upon agencies. That it should be there about neutral learning, in a sense, it sounds very motherhood and apple pie, but I think we've lost focus in many public organisations about what we use performance for.
Yes, it is about accountability. Yes, it is about dealing where there are substantial failures. But it should be seen as a positive system.
Now, the way in which we can deal with this is to provide a focus on outcomes, where we look at public value. Where we look at the overall impact of what we're doing and the benefit that it brings to society. But really, we should be thinking about professionalism and the value of learning. So it is value and not targets of terror.
Now we're in an information age. So it's no longer the case that we can simply think about those metrics of which bureaucrats report up their line management structures to the top. There's so much more data that is now available externally through metadata, through social media, and we view data. And there's an interdependency in the way in which public perceive public organisations within that sort of environment.
And that game we need to think about the complexities of performance. And yes, that is about the complexities creating gaming and gaming problems and perversity problems. And we need to understand that in terms of how organisations are impacted.
Public service case study
A webinar hosted by the University of Birmingham and Programme Director, Dr Philip Whiteman. Gain an authentic experience of what it's like to study this programme. Watch Dr Whiteman's case study, which discusses whether performance management has a future in the delivery of public services.
Admissions requirements
To apply for the Masters of Public Administration from Birmingham School of Government, you'll need:
At least an upper second-class degree from a UK university or equivalent (along with copies of transcripts)
Two references
A statement of purpose
CV
Language requirements (international students)*
* Exceptions to the listed admissions requirements will be assessed on an individual basis.
View requirements
Tuition details
The estimated total cost of this programme is £13,500. You can pay in full or in instalments of £1,040 on a module by module basis. All costs are listed to help you make an informed decision.
More tuition details
Curriculum: hands-on experience
Rooted in practice and research, the Online MPA draws upon a range of expertise from both lecturers and external experts, covering topics from leadership and governance to partnership strategy and public policy. This focus on such a diverse range of subject matter ensures the programme is relevant to your day-to-day work.
By leveraging case studies from the world of public service, you'll develop a deep understanding of key strategies and solutions. But most importantly, you'll learn the practical techniques to apply this knowledge to bring about positive change in the real world.
Explore the curriculum
Unable to commit to a full programme of study? Why not explore our Online Master of Public Administration Postgraduate Microcredentials. Offered as a series of short, 8-week online courses with busy professionals in mind, they will offer you the tools you need to get ahead in the ever-changing field of public service.
"This Online Masters of Public Administration is helping me to overcome my challenges by introducing me to more innovative ways of thinking, supported by Module Convenors who are not only academics but have personal experience of working in the public sector. I can thoroughly recommend this course to anyone aspiring to improve their working knowledge and their career opportunities whether in the public or private sector."

– Sharon Clayton, Online Master of Public Administration graduate, United Kingdom
Programme outcomes
You will complete this programme ready to:
Understand public management and governance
Navigate managerial leadership and global governance
Apply individual strategies for public service career development
Implement theoretical knowledge through real-world scenarios
Deploy international perspectives on strategy and practice
As well as providing the highest levels of convenience and flexibility that 100% online learning offers, the programme is full of interactive elements, like video lectures and group activities, which bring the content to life.
Rather than trying to replicate a campus-based setting online, we've built this programme from the ground up, drawing on the latest technology to create a truly unique and immersive student experience.
The online learning environment is not only a window to programme materials and live lectures, it's an opportunity to connect directly with your lecturers and other professionals like yourself.
Experience online
Taught by the same lecturers and global experts as the campus-based programme, you'll be exposed to diverse theories and practical ideas from across the public service arena. As well as input from former international councillors, civil servants and consultants, the programme is run by former government policy officer Dr Philip Whiteman.
The opportunity to access the latest thinking in public services, from an international network of industry leaders and experts, will help you further your insights and influence, anywhere in the world.
A dedicated module convener and seminar tutor will be in contact with you on a weekly basis, guiding you through the programme content, discussion activities and assignments.
Meet the faculty
Frequently asked questions
You may have some questions about the programme, the university or the online environment. It's always the way when starting something new. Don't worry; we're here to answer them.
If you have a question we don't cover here, request more information or call +44 (0)800 032 7101.
You can apply to study the Online Master of Public Administration irrespective of which industry you work in. Whatever your professional ambition, this programme supports a broad range of organisational functions within the public and private sector.
There are three intakes per year. You can choose to join our programmes in spring, summer or autumn.
Though the schedule varies by programme, most online classes, or synchronised tutorials, normally take place once every two weeks. These are often run multiple times during the day, so you can join at a time that suits you. You'll receive a timetable of your synchronous session after you enroll.
Through our online learning environment, Canvas, you can contact your peers and tutors, use discussion forums, connect to live lectures and take part in group work. It's a highly interactive environment, designed to make you feel part of a community.
Some students also choose to use Skype, WhatsApp or Google Hangout whilst studying, in addition to Canvas.
As well as learning from leading lecturers and industry speakers, you'll have access to community boards, instant messaging services, live discussions and one-to-one support from a Student Services Coordinator. We also offer 24/7 technical support should you encounter any difficulties accessing the online platform.
Our online learning environment includes videos and interactive activities for you to learn from. You can also access the university's online library, which includes e-textbooks, journal articles and specialist industry reports.
Find out more about our online learning environment.
Yes, all of the modules on the MPA programme are available as stand-alone Postgraduate Microcredentials, which you can study online over an 8-week period. At the end of your 8-week course, you will receive an official University of Birmingham Postgraduate Microcredential certificate worth 10 credits, and a transcript highlighting your new credential to both current and prospective employers.
You'll also be able to use any course credits you've earned through this Microcredential qualification towards the Online Master of Public Administration programme, should you choose to study the full master's degree at a later date. Find out more about our short online courses here.
Visit our FAQ page