Online Masters of Public Administration (MPA)
Lead positive change
The world of public service has changed, and with it the demand for a whole new set of skills and way of thinking. By introducing you to the latest, pioneering public service practices, strategies and global perspectives, our 100% Online Masters of Public Administration (MPA) will prepare you for today's public sector challenges, equipping you with the tools to effect positive change, wherever you are in the world.
Learn more today
Note: * Required field
Quick facts
60%
international – students studying overseas in more than 50 different countries1
£14,495
total programme fee. This can be paid in full or in instalments of £1,115 every module2
#1
the UK's leading academic centre on local governance and strategic public management
Make a difference to your community
With the integration of the likes of AI and 'big data' into public service systems, today's public servants need to be more forward-thinking and tech-savvy than ever. Packed with the latest ideas from around the world, with topics attuned to the current direction of the public sector, this Online MPA is all you need to progress in this dynamic field.
The Online Master of Public Administration is taught through the Institute of Local Government Studies (INLOGOV), the UK's leading academic centre for research and teaching on local governance and strategic public management. It's this cutting-edge research and practice-based knowledge that will help you learn the policies and practices to make a genuine difference to people's lives.
These same skills are also key to furthering your career, whether that's a progression within an existing public sector role, or a move into a senior government or agency position, either at home or abroad.
"This MPA course has helped me to identify gaps through process mapping, defining and resolving problems faster and more effectively. It has given me the scope to view local government through wider lenses and a future towards e-governments, greater public involvement and co-production of services and delivery."

– Ana Soochit, Online Master of Public Administration graduate, Trinidad
Career outlook
We're committed to helping you develop the skills you need to advance your career to a level where you're able to make a greater impact on people's lives. Whether you're looking to progress in the public or voluntary sector, or in a consultancy role, the Online Master of Public Administration prepares you for work in various areas of practice and policy.
For individuals with the right level of education and global expertise, a number of career choices are available, such as senior policy officer, social services manager and even a member of parliament. Backed by the skills and the know-how, you'll have all you need to drive public sector efficiencies in your future career.
Unlock your career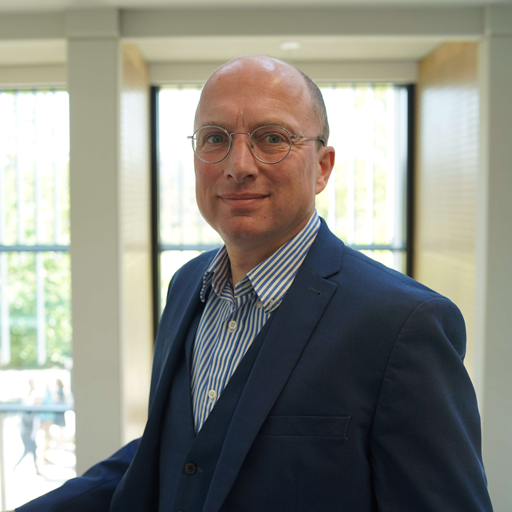 Dr Philip Whiteman, Program Director
Online Public Administration Webinar:
Watch the recording of our Online Public Administration webinar hosted by the Programme Director, Dr Philip Whiteman. This session is a chance for you to gain an authentic feel for what it's like to study the Master of Public Administration programme online with the University of Birmingham.
Watch Now
Curriculum: hands-on experience
Rooted in practice and research, the Online MPA draws upon a range of expertise from both lecturers and external experts, covering topics from leadership and governance to partnership strategy and public policy. This focus on such a diverse range of subject matter ensures the programme is relevant to your day-to-day work.
By leveraging case studies from the world of public service, you'll develop a deep understanding of key strategies and solutions. But most importantly, you'll learn the practical techniques to apply this knowledge to bring about positive change in the real world.
Explore the curriculum
Admissions requirements
To apply for the Masters of Public Administration from Birmingham School of Government, you'll need:
At least an upper second-class degree from a UK university or equivalent
A reference (this is dependant on your entry mode and may not be required)
CV
Language requirements (international students)*
* Exceptions to the listed admissions requirements will be assessed on an individual basis.
View requirements
Tuition details
The estimated total cost of this programme is £14,495. You can pay in full or in instalments of £1,115 on a module by module basis. All costs are listed to help you make an informed decision.
More tuition details
Looking to learn whether you meet our entry criteria?
Email your degree certificate (or equivalent) to us. A member of the online admissions team will provide feedback within 48 hours.
Email Degree Certificate
Start dates:
March | July | October
"This Online Masters of Public Administration is helping me to overcome my challenges by introducing me to more innovative ways of thinking, supported by Module Convenors who are not only academics but have personal experience of working in the public sector. I can thoroughly recommend this course to anyone aspiring to improve their working knowledge and their career opportunities whether in the public or private sector."

– Sharon Clayton, Online Master of Public Administration graduate, United Kingdom
Programme outcomes
You will complete this programme ready to:
Understand public management and governance
Navigate managerial leadership and global governance
Apply individual strategies for public service career development
Implement theoretical knowledge through real-world scenarios
Deploy international perspectives on strategy and practice
As well as providing the highest levels of convenience and flexibility that 100% online learning offers, the programme is full of interactive elements, like video and group activities, which bring the content to life.
Rather than trying to replicate a campus-based setting online, we've built this programme from the ground up, drawing on the latest technology to create a truly unique and immersive student experience.
The online learning environment is not only a window to programme materials, it's an opportunity to connect directly with your lecturers and other professionals like yourself.
Experience Online
Taught by the same lecturers and global experts as the campus-based programme, you'll be exposed to diverse theories and practical ideas from across the public service arena. As well as input from former international councillors, civil servants and consultants, the programme is run by former government policy officer Dr Philip Whiteman.
The opportunity to access the latest thinking in public services, from an international network of industry leaders and experts, will help you further your insights and influence, anywhere in the world.
A dedicated module convener and seminar tutor will be in contact with you on a weekly basis, guiding you through the programme content, discussion activities and assignments.
Meet the faculty
Frequently asked questions
You may have some questions about the programme, the university or the online environment. It's always the way when starting something new. Don't worry; we're here to answer them.
If you have a question we don't cover here, request more information or call +44 (0)800 032 7101.
You can apply to study the Online Master of Public Administration irrespective of which industry you work in. Whatever your professional ambition, this programme supports a broad range of organisational functions within the public and private sector.
We have multiple intakes per year. Contact us to learn more about our upcoming start date.
Though the schedule varies by programme, most online classes, or synchronised tutorials, normally take place once every two weeks. These are often run multiple times during the day, so you can join at a time that suits you. You'll receive a timetable of your synchronous session after you enroll.
Through our online learning environment, Canvas, you can contact your peers and tutors, use discussion forums, connect to live lectures and take part in group work. It's a highly interactive environment, designed to make you feel part of a community.
Some students also choose to use Skype, WhatsApp or Google Hangout whilst studying, in addition to Canvas.
As well as learning from leading lecturers and industry speakers, you'll have access to community boards, instant messaging services, live discussions and one-to-one support from a Student Services Coordinator. We also offer 24/7 technical support should you encounter any difficulties accessing the online platform.
Our online learning environment includes videos and interactive activities for you to learn from. You can also access the university's online library, which includes e-textbooks, journal articles and specialist industry reports.
Find out more about our online learning environment.
Currently there are nine featured short courses available under the Master of Public Administration programme, which you can study online over an 8-week period. At the end of your course, you will receive an official University of Birmingham Postgraduate Micro-credential certificate worth 10 credits, and a transcript highlighting your new credentials to both current and prospective employers.
Visit our FAQ page