Online PGCert Design for Learning Environments
Build better ways to learn
With online education dominating how we learn today, the demand for skills and knowledge to inform the design of effective learning environments is booming. By bringing together the latest thinking in computing, design, the social sciences and education, this programme will help you design better learning experiences and seize upon new career opportunities across multiple sectors.
Learn more today
Note: * Required field
Quick facts
£4,440
total programme fee. This can be paid in full or in instalments of £740 every module1
The future of learning in your hands
Since the outbreak of COVID-19, the demand for online education has grown significantly3, as people switch from classrooms to apps, games, websites and other forms of online learning. App downloads alone have soared by 90% in this period, against a weekly average in the last quarter of 2019.4
By offering a uniquely interdisciplinary approach to the understanding of online and offline learning environments, our online PGCert Design for Learning Environments will give you the edge when it comes to progressing a career in this ever-expanding field.
Combining topics as diverse as design, technology, education, social science, data science and digital development, this learning design certificate will help you develop the knowledge to design innovative learning environments, whatever the context. This makes it ideal for education providers, private learning specialists, in-house training teams and CPD providers.
"The course represents the cutting edge of this industry and equips the student with the broad range of valuable skills required to play an integral part of any learning design team. The lecturers are highly qualified, experienced and extremely knowledgeable, the materials are accessible and the assessment methods are valid. I cannot recommend the course highly enough."

– Tyrone Bishop, Online PGCert Design for Learning Environments Graduate, United Kingdom
Career outlook
As well as equipping you for a career in education or training, our learning design certificate will enable you to build a diverse portfolio of work to showcase your skills to employers.
Our own experience as a leading UK provider of distance and blended learning reinforces the practical value of our postgraduate certificate, as does our academic research into the latest developments in technology and learning. It's these factors that will give you an advantage when it comes to furthering a career in online education – an area set to grow threefold between2015 and 2025.5
The choice of roles available to qualified professionals is constantly evolving, and includes instructional designer, digital learning designer, learning experience designer, learning architect, e-learning designer, learning technologist, learning developer, digital learning officer and learning adviser.
Unlock your career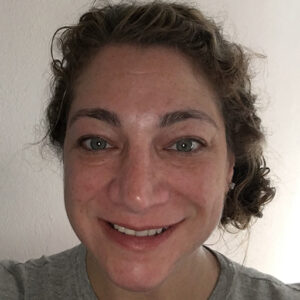 Jaimie Miller-Friedmann, Programme Director
Design For Learning Environments Webinar:
Watch the recording of our Online Design for Learning Environments webinar, hosted by the programme faculty and designed to give you an authentic feel for what it's like to study the Design for Learning Environments programme online at the University of Birmingham.
Watch Now
Admissions requirements
To apply to study this learning design certificate, you'll need:
2.1 degree (or equivalent) OR 2.2 degree (or equivalent) with 2 years' work experience (in design, computing or education) OR no degree with 5+ years' work experience (along with copies of transcripts)*
One reference (depending on your eligibility, this may not be required)
Statement of purpose (Optional)
CV
Language requirements (international students)**
We welcome applicants with an appetite for learning. Since this programme combines modules from multiple disciplines, expect to cover coding and maths, starting at secondary schooling level and above.

* Short courses require a 2.1 honours degree (or equivalent) OR 3+ years' work experience in design, computing or education.
** Exceptions to the listed admissions requirements will be assessed on an individual basis.
View requirements
Tuition details
The estimated total cost of this learning experience design certificate is £4,440. You can pay in full or in instalments of £740 on a module-by-module basis. All costs are listed, to help you make an informed decision.
More tuition details
Looking to learn whether you meet our entry criteria?
Email your degree certificate (or equivalent) to us. A member of the online admissions team will provide feedback within 48 hours.
Email Degree Certificate
Start dates:
March | July | October

Curriculum: Shape your own learning
Run by the College of Engineering and Physical Sciences, our learning design certificate features expert lecturers and researchers from a range of disciplines, each bringing a unique perspective on learning environments to the curriculum.
As well as exploring classic and contemporary behavioural, social and cognitive approaches, you will also build digital artefacts and analyse data to enhance the learning experience. You'll also understand how to tailor these experiences to different learners and to different environments, both digital and physical, to improve learning outcomes.
Explore the curriculum
Unable to commit to the full year programme?
We also offer short, 8-week Design for Learning Environments courses, each worth 10 credits toward the full postgraduate certificate in instructional design. These courses offer the same academic qualities and access to the same resources as the full PGCert.
Explore short courses
Programme outcomes
Explore the role of design, the processes involved, and current theories and practices
Develop a digital artefact and implement it in a new learning environment, drawing on new technologies
Analyse data sets against key tools and frameworks to evaluate teaching and learning techniques
Assess the strengths and weaknesses of contemporary learning perspectives
Examine the learning environment from social and technical perspectives
Communicate a design proposal and plan a learning environment design
As well as providing the highest levels of convenience and flexibility that 100% online learning offers, the programme is full of interactive elements, like video and group activities, which bring the content to life.
Rather than trying to replicate a campus-based setting online, we've built this programme from the ground up, drawing on the latest technology to create a truly unique and immersive student experience.
The online learning environment is not only a window to programme materials, it's an opportunity to connect directly with your lecturers and other professionals like yourself.
Experience Online
Our instructional design certificate is delivered by an interdisciplinary faculty team of designers, researchers, educationalists and technologists. By exposing you to the latest research, thinking and practical application of technology from a range of different perspectives, the programme will expand your understanding of the learning experience and the use of technology to transform learning environments and outcomes. Programme director, Jaimie Miller Friedman, has designed a number of successful learning experiences, using various digital technologies. Jaimie is an active researcher and has worked in the field of science education since 1998, first as a secondary school science teacher in New York City, and then as a science education researcher at Harvard University.
The faculty draws on extensive networks across the university and beyond to produce a variety of exciting case study projects. These include collaborations with Educational Enterprise (the University distance learning team), case studies from the campus launches in Dubai and Singapore, the building of new physical learning environments on campus and academic partnerships with online programme management and massive open online course (MOOC) providers.
Meet the faculty
Frequently asked questions
You may have some questions about the programme, the university or the online environment. It's always the way when starting something new. Don't worry; we're here to answer them.
If you have a question we don't cover here, request more information or call +44 (0)800 032 7101.
Currently there are five featured short courses available under the PGCert Design for Learning Environments programme, which you can study online over an 8-week period. At the end of your course, you will receive an official University of Birmingham Postgraduate Micro-credential certificate worth 10 credits, and a transcript highlighting your new credentials to both current and prospective employers.
On completion of the Online PGCert Design for Learning Environments, you will be awarded a 60-credit Postgraduate Certificate. A PGCert is a postgraduate qualification at the same level as a master's degree. It is the shortest commonly available postgraduate qualification and is therefore sometimes referred to as a 'mini Masters'. As with all postgraduate qualifications, it will look great on your CV, shows your commitment to continued learning and can open up pathways to further career progression.
Digital learning is stronger than ever, and the need for high-quality digital learning talent remains firmly in place. New organisations and qualification opportunities are popping up to encourage people into the sector, and completing a programme of study such as the Online PGCert Design for Learning Environments will enable you to fill roles such as Instructional Designer, Learning Architect, Learning Technologist, VLE Administrator, Digital Learning Officer and many more.
No – you don't necessarily need to have previous work experience specifically in the field of education. We accept applications from a wide range of professional fields including design and computing, as well as education. Work experience is also not a requirement if you possess an upper-second class degree or equivalent. Overall, this is an excellent qualification for people working in any industry or for recent graduates who are interested in entering into the field of instructional design.
Visit our FAQ page