Whilst the human and economic effects of the coronavirus pandemic have been devastating, there appears to be one area that has benefitted – the environment.
As the spread of COVID-19 dramatically reduces work and travel around the globe, scientists are observing drops in air pollution.
Images produced by NASA in February showed a drop in nitrogen dioxide (NO2) over China in the wake of the coronavirus lockdown1 . The gas, which is emitted from car journeys and industrial activity, is a serious air pollutant and powerful warming chemical.
Images that showed high concentrations of NO2 clouding the map over China at the beginning of the year became almost completely clear less than two months following the coronavirus lockdown.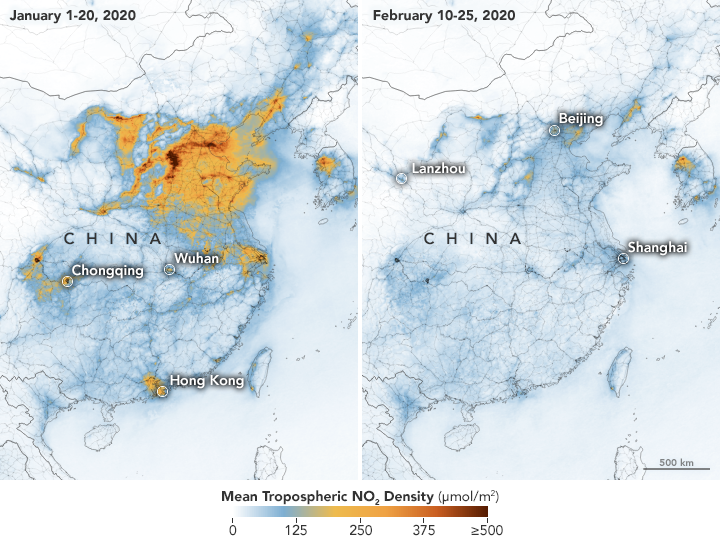 Data from the European Space Agency showed similar drops in nitrogen dioxide concentrations over Italy following their own quarantine measures2. No doubt as countries across the globe implement their own lockdowns to slow the spread of the virus we will continue to observe these drops in air pollution worldwide.
In addition, it is thought that these reductions in air pollution as a result of the virus could have already had life saving effects. Stanford University environmental resource economist Marshall Burke calculates that "the two months of pollution reduction has probably saved the lives of 4,000 children under 5 and 73,000 adults over 70 in China. That's significantly more than the current global death toll from the virus itself."3
However, commentators are wary as to whether these temporary drops in air pollution will have a lasting effect on climate change. In fact, some are concerned that the pandemic will actually have a negative long-term impact.
"I won't be celebrating if emissions go down a percent or two because of the coronavirus," said Rob Jackson, an environmental scientist at Stanford University who chairs the Global Carbon Project. "We need sustained declines. Not an anomalous year below average.4"
NPR climate correspondent Lauren Sommer believes that there is "a high likelihood that (the reduction in emissions) is going to be cancelled out as China tries to make up for its economic losses and really starts ramping up power plants and factories in the near term"5.
However, the fact that we have seen such dramatic improvements in such a short time period are still a good thing, explains Peter Gleick, a climate scientist and founder of the Pacific Institute in Berkeley, California; "As for the environmental benefits we see from the slowdown of day-to-day life and economic activity in terms of improving air quality and other slight benefits, it's a good sign that our ecosystems are somewhat resilient if we don't completely destroy them."6
Reducing air pollution long term would also see us in good stead should we face a similar pandemic in the future. Already published research7 has shown that long-term exposure to this pollutant may be one of the most important contributors to fatality caused by the COVID-19 virus.
According to Aaron Bernstein, interim director of the Center for Climate, Health, and the Global Environment at the Harvard T.H. Chan School of Public Health "There's lots of evidence that air pollution increases the chances that someone will get pneumonia (following a respiratory virus)."
"There is also evidence from previous outbreaks of similar coronaviruses that people exposed to dirty air are at greater risk of dying. Scientists who studied the SARS coronavirus outbreak in 2003 found that infected patients from regions with higher air pollution were 84% more likely to die than those in less-polluted areas."8
There has also been a preliminary study released in the UK showing evidence of a link between higher levels of of air pollution and deaths in England9.
So can we use the positive environmental effects of the COVID-19 pandemic as a catalyst for stronger climate change policies moving forward?
"The pandemic is fast shining a spotlight on our ability or inability to respond to urgent threats. But like pandemics, climate change can be planned for in advance, if politicians pay attention to the warnings of scientists who are sounding the alarm"10 says Gleick.
In the wake of the coronavirus outbreak, not only would climate change experts like Governments to heed their warnings and plan accordingly, they would like policy makers to take the opportunity to rebuild the economy with the environment in mind."11
According to the Head of The International Energy Agency (IEA) Fatih Birol, the pandemic could be an opportunity to usher in a new era for global climate action with economic stimulus packages to confront the coronavirus pandemic.
"This is a historic opportunity for the world to, on one hand, create packages to recover the economy, but on the other hand, to reduce dirty investments and accelerate the energy transition" states Birol. "This is a huge opportunity we cannot miss."
Our Online LLM in Energy and Environmental Law equips students with the knowledge and skills required to tackle the world's energy issues, including climate change. For more information please fill out our request for information form or call us today.
References:
Recommended Articles
View All