Online LLM in Energy and Environmental Law
Tackle the world's greatest challenges
In a world of limited resources, an understanding of sustainable energy management is key to our survival, as are the legal implications for businesses and individuals alike.
Supporting careers in both energy and environmental law, this 100% Online LLM (master of laws) provides the legal framework to respond to the world's energy issues, while considering the impact of climate change.
Learn more today
Quick facts
100 years
Birmingham Law School has more than 100 years experience as a leading Law School
£16,485
total programme fee. This can be paid in full or in instalments of £2,355 every module1
#16
Birmingham Law School is one of the top places to study Law in the UK (QS 2022)2
Safeguarding our future
The protection and sustainable management of our natural resources are crucial to our future, particularly the world's poorest societies, who are disproportionately affected by depleting resources. By linking the contemporary issues of environmental protection and energy management, this 100% online programme is in a unique position to meet these challenges and unlock legal careers in both sectors.
Taking a distinctively transnational, multi-jurisdictional approach to teaching, the programme examines the varying levels of energy ownership and environmental protection around the world.
Delivered by internationally-renowned lecturers from the Birmingham Law School, this programme will arm you with skills you need to respond to energy and environmental crises anywhere in the world.
"The technical, legal knowledge I learnt at Birmingham has enabled me to hit the ground running at work."

– Josh White, LLM International Criminal Law graduate
Career outlook
The move to a greener economy could generate around 24 million new jobs globally by 2030, according to the UN. This statistic highlights a market ripe for legal expertise in energy management and environmental protection.
Perhaps you are in a role with growing responsibility, or you are a qualified lawyer ready for your next venture. Whatever your professional ambition, this engaging programme provides the legal framework to realise a growing number of opportunities.
Unlock your career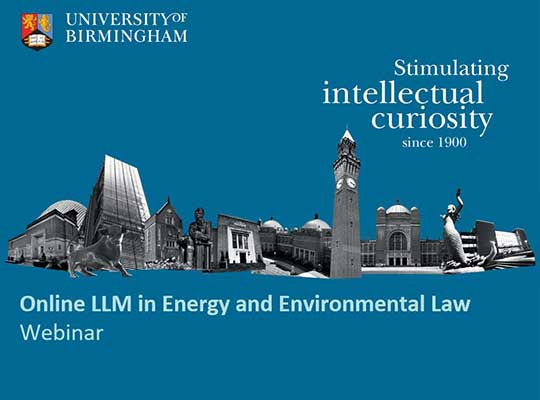 ROBERT LEE: Hello, everyone. Welcome. I'll introduce myself in a second. But I want to take you through an Online Energy and Environmental Law programme, which is master's level.
So we're going to spend about 30 minutes perhaps today just going through this programme. I'll introduce myself, and I'll introduce you to the programme. I'll talk through the modules that are in the programme. And if you have any questions as we go along, please do fill those questions into the chat box, and I'll take the questions at intervals throughout this webinar and answer them to the best that I can.
So this is me. I'm a professor at the University of Birmingham. I've been an academic now for the past 25 years. I have worked also in large law firm practice in the city of London, and I will be director for the entirety of this programme. It's an online programme, and we'll talk about why it's an online programme and what that means in a second.
In addition to leading this programme, I was dean of the law school for five years, and I am now director of The Centre for Legal Education and Research and what that centre tries to do is to bridge the gap between the student's academic learning in law and the potential for professional practice. So, for example, I lead a whole streams of pro Bono programmes, which involve the students giving legal advice. And, in fact, two of those programmes are in the area of environmental law.
I'm a fellow at the Academy of Social Sciences, and the reason why I mentioned that is that actually not all that many lawyers are a fellow of the Academy of Social Sciences. But it does mean that I do social science research. So, I do practical research looking at the way the law works. And I think that's quite useful for the sort of programme that we're trying to run here I am also advisor to a number of international agencies in international government.
So, for example, I have done work for the UN Environment Programme. I have also done work for the UN Development Programme and for UNESCO, and I used to teach in the UNESCO-sponsored Institute for law and development, which is based in Rome.
I do quite a lot of media work. In fact, this morning, I did a radio interview for the BBC here in the UK on plastic waste. And I publish and research in environmental law, but also, in particular, in technologies regulation. So, for example, I have a big research project on electrification of transport, and that's supported by a very significant grant, over 9 million pounds of grant money.
And then the question is, well, why have we devised an online LLM course in this area? Well, the law school itself wants to get into online provision. I'll say in a moment that Birmingham is a leading global university, and we wish to extend our global reach. We understand that not everybody is going to come to the UK to take part in a programme.
So we're trying to offer a programme that will go out to people wherever they are in the world. So that's partly why we're running an online LLM. But then the second question is, why have we chosen as the subject for that LLM energy and environment? And as it says on the slide in front of you, the reason for that is that these issues are here to stay.
We knew about global warming as long ago as the mid-1980s. And, in 1992, we passed the Climate Change Convention at an international law level, and yet really since that time– over nearly 30 years– relatively little has been done to actively address climate change. And that is really beginning to change. And it's beginning to change at a rapid level.
And a major factor in that change is the decarbonization of energy streams. And, therefore, we think that an understanding of environment and environmental impacts and environmental regulation, alongside equally an understanding of how energy is commissioned, run, and, indeed, decommissioned is really important for students to understand.
As it says on my slide, you can't treat energy and environment into separate boxes, and that is what legal practice has tended to do. It's tended to have people who are energy lawyers, and they work on energy competition issues or energy pricing. And then, in another room, there are environmental lawyers, and they work on environmental regulation and corporate advice work, corporate due diligence. What we're doing is saying, look, if you really understand these two disciplines in an integrated way, you will considerably to your know-how and your value.
Now one of the interesting things about this course, which will start on the 2nd of March next year, is that I'm trying to write in such a way that it is not about the law in any particular jurisdiction. So it is not, of course, on UK law. It's not a course on European law, even though that is my background, and I am an expert in those areas. I'm trying to write a course, which is relevant to you, whichever jurisdiction in the world you are based. So I'm trying to write a transnational environmental energy law course, and I'm doing that in such a way as to say, well, if you really are thinking of building offshore wind farms as part of a renewable energy project, here are the things that you will need to think about.
And those issues– navigation, ownership of the seabed, protection of marine life– they tend to be the same all around the world. So I'm working at that conceptual level in order to try and produce a transnational course that will be relevant for everyone. People take examples from different legal systems in the world, but it won't be based in any one legal system. I'm just going to pause for a second and see if there are any questions in the chat box.
SARAH: Hi, Robert. We've had a question through from Mark who has asked, in relation to the case studies on the course, are they pre-set or would he be able to offer up his own case studies?
ROBERT LEE: OK, I'll deal with that. Thanks, Sarah. I'm going to move on. I have a question, and it's a question that arises on a later slide. It's from Mark, and it's about case studies. But I'll handle that question when I come to talk about the case studies.
I just want to tell you at the University of Birmingham, if you are going to sign up to course, then why choose the University of Birmingham? Well, when I talked about our global reach earlier, we are an accredited top 100 university in the world. So that is an indication really of our quality ranking. In the UK, we are a Russell Group university.
So we sit alongside Oxford, for example, alongside the London colleges, like Imperial and Kings and University College, and then alongside are the big what we call red brick universities, metropolitan universities in the UK such as Manchester and Nottingham. Birmingham is the Second City of the UK, and partly for that reason, we have been teaching law back into the 19th century. Our student law society celebrated its 90th anniversary last academic year. So, we've been going for an awful long time.
And on the back of that, we have a very distinguished set of law alumni all around the world. So, as it happens, I was talking about filming for this course only yesterday. And they were saying, well, do you have people who could sensibly talk about environmental regulation?
And I said, well, as it happens, the head of law, the chief in-house counsel for the Environment Agency in the UK is a Birmingham graduate. I can give you another example. The chief in-house counsel for the World Bank, Sandie Okoro, is a Birmingham graduate. So we have graduates all around the world, and we pride ourselves in terms of putting those graduates into jobs.
So, here's what the online LLM looks like. It has six 20-credit modules. They consist of 12 weeks of material plus a further four weeks in which you do your case study.
Now the case study is part of the assessment. And Mark asked the question whether those case studies are pre-set or whether he could write his own case study. Well, the answer to that question is, the case studies are pre-set. We set these case studies. And they are problem-based, and they ask you to solve the problem that you are given.
Having said that, that is not the only element of the assessment because we then have a reflective report which allows you to reflect on the case study. So, while the case studies are pre-set, you can specialize to some degree by concentrating on things in your reflective report, and also, of course, there is a dissertation. That dissertation is a dissertation of your choice, providing it's in the environment energy area, and that is worth 60 credits.
So with six 20-credit modules plus 60 credits for a dissertation, you get 180 credits, and that's the ordinary credit rating for a full master's degree. 16-week modules mean that you can do three a year. You will do the six in two years, and then it will take you another six months maximum for you to do the dissertation.
So you can complete the programme in 2 and 1/2 years. We estimate– and this is just an estimate– but we estimate you'll probably need to be putting in 15 hours a week of private study time in order to do these modules. There will be three intakes a year. You can join in March, in June, or October, and the fact that there are three intakes a year actually does mean that there are people joining the programme all of the time.
And I quite like that idea because my idea is to build up a network a community of people who are all working in the energy environment area that all come from different jurisdictions, and my hope is that network may build both lasting friendships but also lasting opportunity, a network of people from different countries who know each other and perhaps who can share problems and even show work. I'm going to stop there and see whether there are any more questions that have come through from the chat box.
SARAH: Hi, Robert. Yeah, we've had a few questions through. So in relation to one of the previous slides, you mentioned graduate job prospects. So we've had a question asking what kind of career prospects would this programme open up.
ROBERT LEE: Yeah, any others?
SARAH: We have had a question from Andrew as well saying, can he pause his involvement at any time in the programme.
ROBERT LEE: OK, that's a good question– yeah. OK, I'll carry on, Sarah, and I'll come back to those. Someone has asked me a question about job prospects, and I did mention graduate job prospects. It actually sort of relates to this slide that I've got up here. We imagine that a lot of people coming onto this course will have already graduated in law, and you'll see the entry requirement is either an honors degree in law from somewhere in the world or if not in law, then an allied degree.
So for example, someone with a degree in environmental science could even be interested in this course. Provided they have some work experience in the sector. I think we feel confident that the materials we're using will enable them to engage with a programme like this.
But we imagine a lot of people will have graduated in law. They may already be working in law, and that this programme will help them move specifically into the area of energy environment law. So it's not the area they work in at the moment, but they want to move into that area. That would be one purpose that it would serve.
But equally imagine– and this already happens with our existing masters courses– we will get people who have graduated in law, and in a way, they want to mark themselves out from their competitors in the job market. And we think that the online course will do that. We feel confident the online course will give them a specialism that they can then market.
So I think we see a lot of the jobs being within the legal market, either with law firms or in-house, but we do know from our existing programmes– because we have existing programmes based in the UK– that equally people do end up– and I have a student from last year who ended up working for one of the big energy companies, not as such working as a lawyer, but doing energy contracts work. So we think there's quite a lot of opportunity in the energy sector in jobs related to law, even though you're not actually working as a lawyer. Equally, there are a lot of environment jobs in the public sector, both in regulation and working for regulatory agencies, but also working in a hands-on way in central or local government. And I do a lot of work certainly in the UK with policymakers who have backgrounds in law.
So to come on the course, while looking ideally at that upper second class achievement in your previous course, I don't wish to deter you from applying if you have less than. Two reasons for that– standards for an upper second degree vary in different jurisdictions in the world. In some jurisdictions, it's much more difficult to achieve that level than in others, so we don't have a level playing field to let us have a look at your qualifications and talk to you.
And the other thing is that we can trade to some degree the level of the award that you have against your work experience. It's quite useful to have people who have relevant experience on the course because they can share that knowledge with each other. The language of the course is English, and therefore, we have to know that you have the requisite level of English language.
Now if you're being taught through the medium of English, then that simply won't be a problem. And there are some jurisdictions– I have got a PhD issued from Nigeria, for example, where it would be an insult to ask her what the level of her English was. She speaks better English than I do. But if your education has been in a language other than English, then we will ask for that language qualification as the basis for entry. I'm just going to pause and ask if there are further questions.
SARAH: Hi, Robert. Yes, we've had a few in. So one is in relation to the issues that will be covered in the programme. We've had Megan ask, what are the kinds of global issues that we can expect to be covered in the programme? And will the case studies be focused globally? And linking to that, we've had another question from Mark asking if it would be possible to have an example of a case study that would be covered on the programme.
ROBERT LEE: OK. All right, I'll try and deal with those. Thanks, Sarah.
So someone's asked already about the issues covered on the programme, and I think it might help to answer that question if I go through the modules. So these modules are in sequence, but of course, you can join at any point. So there's no introductory module. You will do the first module that is running at your point of entry.
So if I just deal with these, in turn, one module devotes itself to looking at regulation. Regulation is rife in the area that we're dealing with. Energy, environmental impacts are all very heavily regulated.
So we have a module that helps you understand that regulation. It really asks the question, why things are regulated? Why don't we just leave things to the market? Why do we intervene and impose regulation on industry? And how does that regulation work?
Sometimes it works well. Sometimes it works very poorly, indeed. Can we help to understand that and understand what works? In relation to nuclear energy, we look at the place of nuclear in the energy mix, the difficulties that go with nuclear in relation to things like nuclear waste issues in relation to safety and liability, and we look at how nuclear power facilities, which are enormously expensive, are commissioned and then how we safely decommission them at the end of life.
Someone asked the question, well, what sort of global issues do you cover in the courses that you do? And nuclear will be quite a good example of that in the middle of the nuclear energy module, we will look at international safety and international liability and the links between nuclear energy and nuclear proliferation, nuclear weapons. So we are actually looking at these things in a global context. If there is a major nuclear disaster, its impact may well be transboundary. We will look at the liability frameworks in international law around that.
Moving on, we look at the environmental assessment of infrastructure, particularly energy infrastructure, and we look at how energy infrastructure is financed. So if we take the example of a hydroelectric power station or a tidal lagoon, how do we pay for the building of that? The short answer to that is, ordinarily, it is the sale of electricity from those projects over time that repay the financial costs that went into the project in the first place.
But that means a very heavy process of risk assessment, and we deal with how one assesses and then, through an action plan, how it works to minimize risk in the course of those infrastructure projects. And I want to emphasize, in particular, when I talk about risk, I'm also talking there about environmental impacts. I'm talking about environmental impact assessment. I'm talking about social impact assessment.
So what happens, for example, when in building your hydro project, you relocate people from areas in which they live? Then we have a module on oil and gas and where oil and gas sits again in the energy makes in this area of decarbonization, and we talk about different models of ownership of natural resources, which does vary around the world and how we license then and give concessions– usually, first for exploration and then for exploitation of oil and gas– and how we deal with the refining and then the piping and distribution of oil and gas supplies.
Now if Mark asked the question in terms of, do you have an example of a case study? Well, if I just use this area to give you an example, the sort of case study you would get would be a case study in which, for example, a developing country finds oil and gas deposits for the first time and may be onshore, then maybe offshore. But let's imagine that this country suddenly discovers that it is very rich in either oil or natural gas. It wishes to exploit, obviously, those resources to earn much-needed income.
How do we go about doing that? What contractual and other models can it use? Perhaps he has no expertise itself. So does it bring in big multinationals from the outside? And if it does that, on what basis does it do it?
Does he do it on a joint venture basis with its own oil corporation? Does it do it on a concession basis? If so, what's the royalty income? How would that work?
Those are the sorts of questions we have in the case that is set up that sort of fairly open problem but ask students to come forward with answers to that question, going through in that example of the pros and cons of different models of contracting for oil and gas exploitation. And then the final two modules, we have a module on pollution control. I actually do a lot of work on pollution control. Here we are analyzing the permitting systems. When we come to infrastructure, including energy infrastructure, including things like grid systems, how do they go through planning and zoning processes?
What permits are they given? How do those different systems work in different types of operation around the world? And what can we do in the running of those systems to mitigate and control?
I've put down their environmental pollution, but really, I mean a wide range of problems. I'm talking about here about climate change mitigation, but I'm also talking about things like impacts on biodiversity. So, for example, bird strikes from wind farms– what do we do to ensure that our environmental and energy projects don't cause further biodiversity loss?
And if they do, how do we deal with liability for environmental damage? And, again, that looks different in different parts of the world, but we can explore all that. And then there is a module on renewable energy and renewable energy systems, and we've included in that all the international regimes related to climate change because, obviously, the pursuit of renewable energy systems is often being directed at the mitigation and some degree their reputation of systems under climate change. So, we will talk about green financing and green energy infrastructure and the extent to which different forms of renewable energy can fill the void left by decarbonization where we begin to shift away from hydrocarbon-based energy.
Now under US the question about halting involvement, these modules run one after the other. So, if you were to hold your involvement, you would miss a module, put simply. And then it would mean that you would have to wait until that module came around again.
Is it possible the following year, depending on which order we were in, to take that module? We will make provision, I think, to allow you to do your dissertation in between, providing you've only got one module to catch up. So that is how we would deal with somebody who through work pressure or family pressures, for example, simply had to interrupt a module.
But those are the six modules. That is followed by a dissertation. And for the dissertation you can choose, with the agreement of your supervisor, any issue from any element of the course that you have decided during the course that you would wish to pursue further. I'm just going to hold there and see what other questions have come in.
SARAH: Hi, Robert. And, yeah, we've had quite a few questions. And so I've had one from Megan, which is module specific, and a second one from Lei, which is more general, course specific.
So from Megan, she's asked that, in relation to the oil and gas law module, you spoke about the ownership of these natural resources. Is this pertaining to the countrywide issues of the civil wars over these resources? And from Lei, in relation to the overall programme, he has asked if the course is flexible enough to fit around his job.
ROBERT LEE: Yeah, OK. In Megan's case, Sarah, she's asking in relation to oil and gas, what was the issue again?
SARAH: Her question, she says that you spoke about the ownership of these natural resources. And it's not pertaining to countrywide issues about civil wars over resources? Is that something you would go into during the modules?
ROBERT LEE: OK, I can deal with that. OK, so I have a question from Megan that relates to the oil and gas module on the questions of ownership of natural resources. And I think Meghan's question is, what about battles over ownership? What about issues where you may be plunged into civil war?
And, certainly, without saying too much about it, I have dealt with a dispute between two countries in South Asia over the ownership of natural resources. So there are those boundary and territorial disputes. We will look at some of those disputes.
We will look at some of those transboundary issues. It's not a major element of the course because, often, we're talking about ownership in a particular country. But it is an issue that has been quite big in Europe because, for example, in the North Sea oil field, we do have oil fields that extend beyond the exclusive economic zone of any one country. So it is an issue that we're familiar with, and we will cover.
If I just pass on and just tell you a little bit about how the course will be delivered, it's online study. And, therefore, we post everything on a learning platform, which we call Canvas. But it's a learning platform, and it supports video materials, but it also supports guided reading for you to do. It has a discussion board in which you can talk to each other in a moderated forum, and I or other tutors can answer questions that you put to us. It contains your assignment, your case studies, information on how to complete the dissertation or what we mean by a reflective report and how you write one of those.
I had a question saying, well, will the course be flexible enough to sit alongside your workload? And I have to say that is something that you will sort of have to try and judge for yourself. But bear in mind what I said earlier that we are talking, on average, about a 15-hour commitment outside of your ordinary working time. That is our estimate of how long you would need to deal with a reading, to look at the video material, to work through the case studies, and do the things that you'd need to do for your assignment.
So I think that is the question you need to ask yourself if you can work at it in your own time. But the question, you really need to ask yourself is, am I in a job at present that would give me that 15-hour study time on average over that 16-week period? And that really is an outline of the course.
Information session
View our webinar hosted by the University of Birmingham and Programme Director Professor Robert Lee. Gain a feel for our online learning environment and what it's like to study the 100% Online LLM in Energy and Environmental Law degree.
Admissions requirements
To apply for the Online LLM in Energy and Environmental Law degree from the Birmingham School of Law you will need:
At least a 2.1 honours degree or non-UK equivalent in Law OR a 2.1 honours degree or non-UK equivalent in an allied degree with relevant work experience in the sector
A reference (this is dependant on your entry mode and may not be required)
A statement of purpose (this is dependant on your entry mode and may not be required)
CV
Language requirements (international students)*
* Exceptions to the listed admissions requirements will be assessed on an individual basis.
View requirements
Tuition details
The estimated total cost of this programme is £16,485. You can pay in full or in instalments of £2,355 on a module by module basis. All costs are listed to help you make an informed decision.
More tuition details
Looking to learn whether you meet our entry criteria?
Email your degree certificate (or equivalent) to us. A member of the online admissions team will provide feedback within 48 hours.
Email Degree Certificate
Curriculum: equipped for the real world
Covering topics such as environmental regulation, energy production and the law relating to nuclear energy, the programme provides a comprehensive understanding of law in this evolving field.
The programme features six core modules, lasting 16 weeks each, giving you ample time to understand the core legal issues surrounding energy production and how to solve them. All assignments are case-study led, requiring hands-on legal research, providing practical skills you can implement in your current career from day one.
Explore the curriculum
"Learning in a stimulating and positive environment from world-leading experts in their field was an important reason for me to choose the University of Birmingham for my postgraduate degree."

– Maria Pilavki, LLM Criminal Law and Criminal Justice graduate
Programme outcomes
You will complete this programme ready to:
Apply legal arguments to support a fair distribution of natural resources
Tackle complex commercial transactions underpinning global energy production and supply
Examine the need for regulation and how it is assessed against operational conditions
Factor biodiversity loss, climate change and unequal access to resources into your proposals
Explore patterns of energy production, supply and consumption, as well as issues around energy security in geopolitical contexts
As well as providing the highest levels of convenience and flexibility that 100% online learning offers, the programme is full of interactive elements, like video and group activities, which bring the content to life.
Rather than trying to replicate a campus-based setting online, we've built this programme from the ground up, drawing on the latest technology to create a truly unique and immersive student experience.
The online learning environment is not only a window to programme materials, it's an opportunity to connect directly with your lecturers and other professionals like yourself.
Experience Online
Renowned for its legal education and research credentials, the University's Law School features lecturers at the forefront of government environmental legislation. Programme director Professor Robert Lee is also the Director of the Centre for Legal Education and Research at the University of Birmingham, a Fellow of the Academy for Social Sciences and an advisor to international agencies and governments. He has also published significant research on environmental law and technologies regulation.
As well as benefiting from the experience of your lecturers, you'll be able to call on your own dedicated module convener and seminar tutor. These members of the faculty team are always on hand to guide you through the programme content, discussion activities and assignments.
Meet the faculty
Frequently asked questions
You may have some questions about the programme, the university or the online environment. It's always the way when starting something new. Don't worry; we're here to answer them.
If you have a question we don't cover here, request more information or call +44 (0)800 032 7101.
If you already hold a bachelor's degree in law, and would like to undertake our Online LLM, you can also apply for Bar Professional Training. However, if your first degree is in an allied subject, you would also need to undertake a Graduate Diploma in Law (GDL), before taking professional courses which allow you to become a qualified lawyer.
There are three intakes per year. You can choose to join our programmes in spring, summer or autumn.
Though the schedule varies by programme, most online classes, or synchronised tutorials, normally take place once every two weeks. These are often run multiple times during the day, so you can join at a time that suits you. You'll receive a timetable of your synchronous session after you enroll.
Through our online learning environment, Canvas, you can contact your peers and tutors, use discussion forums, connect to live lectures and take part in group work. It's a highly interactive environment, designed to make you feel part of a community.
Some students also choose to use Skype, WhatsApp or Google Hangout whilst studying, in addition to Canvas.
As well as learning from leading lecturers and industry speakers, you'll have access to community boards, instant messaging services, live discussions and one-to-one support from a Student Services Coordinator. We also offer 24/7 technical support should you encounter any difficulties accessing the online platform.
Our online learning environment includes videos and interactive activities for you to learn from. You can also access the university's online library, which includes e-textbooks, journal articles and specialist industry reports.
Find out more about our online learning environment.
Visit our FAQ page