Online LLM in Energy and Environmental Law
Tackle the world's greatest challenges
In a world of limited resources, an understanding of sustainable energy management is key to our survival, as are the legal implications for businesses and individuals alike.
Supporting careers in both energy and environmental law, this 100% Online LLM (master of laws) provides the legal framework to respond to the world's energy issues, while considering the impact of climate change.
Learn more today
Note: * Required field
Quick facts
100 years
Birmingham Law School has more than 100 years experience as a leading Law School
£17,010
total programme fee. This can be paid in full or in instalments of £2,430 every module1
#16
Birmingham Law School is one of the top places to study Law in the UK (QS 2022)2
Safeguarding our future
The protection and sustainable management of our natural resources are crucial to our future, particularly the world's poorest societies, who are disproportionately affected by depleting resources. By linking the contemporary issues of environmental protection and energy management, this 100% online programme is in a unique position to meet these challenges and unlock legal careers in both sectors.
Taking a distinctively transnational, multi-jurisdictional approach to teaching, the programme examines the varying levels of energy ownership and environmental protection around the world.
Delivered by internationally-renowned lecturers from the Birmingham Law School, this programme will arm you with skills you need to respond to energy and environmental crises anywhere in the world.
"The technical, legal knowledge I learnt at Birmingham has enabled me to hit the ground running at work."

– Josh White, LLM International Criminal Law graduate
Career outlook
The move to a greener economy could generate around 24 million new jobs globally by 2030, according to the UN. This statistic highlights a market ripe for legal expertise in energy management and environmental protection.
Perhaps you are in a role with growing responsibility, or you are a qualified lawyer ready for your next venture. Whatever your professional ambition, this engaging programme provides the legal framework to realise a growing number of opportunities.
Unlock your career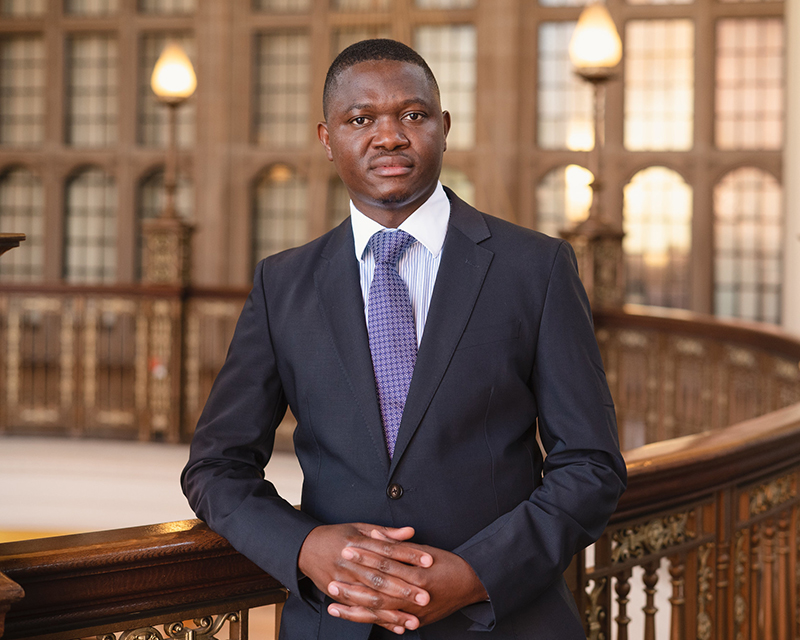 Dr. Walters Nsoh, Programme Director
LLM webinar:
Watch the recording of our Online LLM Energy and Environmental Law webinar with Programme Director, Dr Walters Nsoh – designed to give you an authentic feel for what it's like to study the LLM Energy and Environmental Law programme online at Birmingham Law School.
Watch Now
Admissions requirements
To apply for the Online LLM in Energy and Environmental Law degree from the Birmingham School of Law you will need:
At least a 2.1 honours degree or non-UK equivalent in Law OR a 2.1 honours degree or non-UK equivalent in an allied degree with relevant work experience in the sector
A reference (this is dependant on your entry mode and may not be required)
CV
Language requirements (international students)*
A statement of purpose (Optional)
* Exceptions to the listed admissions requirements will be assessed on an individual basis.
View requirements
Tuition details
The estimated total cost of this programme is £17,010. You can pay in full or in instalments of £2,430 on a module by module basis. All costs are listed to help you make an informed decision.
More tuition details
Looking to learn whether you meet our entry criteria?
Email your degree certificate (or equivalent) to us. A member of the online admissions team will provide feedback within 48 hours.
Email Degree Certificate
Start dates:
March | July | October
Curriculum: equipped for the real world
Covering topics such as environmental regulation, energy production and the law relating to nuclear energy, the programme provides a comprehensive understanding of law in this evolving field.
The programme features six core modules, lasting 16 weeks each, giving you ample time to understand the core legal issues surrounding energy production and how to solve them. All assignments are case-study led, requiring hands-on legal research, providing practical skills you can implement in your current career from day one.
Explore the curriculum
"Learning in a stimulating and positive environment from world-leading experts in their field was an important reason for me to choose the University of Birmingham for my postgraduate degree."

– Maria Pilavki, LLM Criminal Law and Criminal Justice graduate
Programme outcomes
You will complete this programme ready to:
Apply legal arguments to support a fair distribution of natural resources
Tackle complex commercial transactions underpinning global energy production and supply
Examine the need for regulation and how it is assessed against operational conditions
Factor biodiversity loss, climate change and unequal access to resources into your proposals
Explore patterns of energy production, supply and consumption, as well as issues around energy security in geopolitical contexts
As well as providing the highest levels of convenience and flexibility that 100% online learning offers, the programme is full of interactive elements, like video and group activities, which bring the content to life.
Rather than trying to replicate a campus-based setting online, we've built this programme from the ground up, drawing on the latest technology to create a truly unique and immersive student experience.
The online learning environment is not only a window to programme materials, it's an opportunity to connect directly with your lecturers and other professionals like yourself.
Experience Online
Renowned for its legal education and research credentials, the University's Law School features lecturers at the forefront of government environmental legislation. Programme director Dr. Walters Nsoh is an Associate Professor in Law at the University of Birmingham and a Senior Fellow with the Institute for Oil, Gas, Energy, Environment and Sustainable Development, Nigeria. His book, The Privatisation of Biodiversity? – New Approaches to Conservation Law (Edward Elgar Publishing 2016), explores the use of innovative market-based approaches such as biodiversity offsetting, payment for ecosystem services and conservation covenants in nature conservation.
As well as benefiting from the experience of your lecturers, you'll be able to call on your own dedicated module convener and seminar tutor. These members of the faculty team are always on hand to guide you through the programme content, discussion activities and assignments.
Meet the faculty
Frequently asked questions
You may have some questions about the programme, the university or the online environment. It's always the way when starting something new. Don't worry; we're here to answer them.
If you have a question we don't cover here, request more information or call +44 (0)800 032 7101.
If you already hold a bachelor's degree in law, and would like to undertake our Online LLM, you can also apply for Bar Professional Training. However, if your first degree is in an allied subject, you would also need to undertake a Graduate Diploma in Law (GDL), before taking professional courses which allow you to become a qualified lawyer.
We have multiple intakes per year. Contact us to learn more about our upcoming start date.
Though the schedule varies by programme, most online classes, or synchronised tutorials, normally take place once every two weeks. These are often run multiple times during the day, so you can join at a time that suits you. You'll receive a timetable of your synchronous session after you enroll.
Through our online learning environment, Canvas, you can contact your peers and tutors, use discussion forums, connect to live lectures and take part in group work. It's a highly interactive environment, designed to make you feel part of a community.
Some students also choose to use Skype, WhatsApp or Google Hangout whilst studying, in addition to Canvas.
As well as learning from leading lecturers and industry speakers, you'll have access to community boards, instant messaging services, live discussions and one-to-one support from a Student Services Coordinator. We also offer 24/7 technical support should you encounter any difficulties accessing the online platform.
Our online learning environment includes videos and interactive activities for you to learn from. You can also access the university's online library, which includes e-textbooks, journal articles and specialist industry reports.
Find out more about our online learning environment.
Visit our FAQ page