Online MBA Clinical Leadership degree
Lead tomorrow's healthcare

Equipping you with both business and clinical management expertise, our AMBA-accredited online MBA Clinical Leadership degree will help you respond to the growing challenges facing healthcare today, empowering you to lead smarter, more effective healthcare systems.
Learn more today
Note: * Required field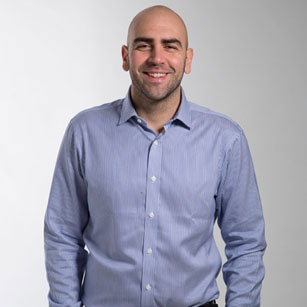 Dr. Solon Magrizos, Online MBA Programme Director
Business Webinar:
Watch our online Business webinar hosted by the Online MBA Programme Director, Dr Solon Magrizos & Online MSc International Management Dr. Veselina Stoyanova. This session is a chance for you to gain an authentic feel for what it's like to study the online programme from the Birmingham Business School.
Watch Now
Quick facts
70+
Network with students from +70 countries across multiple industries1
£24,284
total programme fee. This can be paid in full or in instalments of £1,868 every module2
Top 10
Best online MBA in Europe 3
Drive clinical change at a gold standard university
Faced with rising costs, aging demographics and the spread of diseases like COVID-19, global health services have never been so stretched. To survive the challenges ahead, smarter healthcare ecosystems are needed, as are the individuals to lead them.
The University of Birmingham's online MBA Clinical Leadership degree is designed to help you develop the necessary business management skills, within the organisational context of healthcare, to drive these new solutions and improve public health outcomes.
By uniquely focusing on both health service management and business leadership, this programme will equip both clinical and non-clinical professionals with the ability and confidence to lead clinical experts and effect change.
The programme is AMBA-accredited and is part of our acclaimed online MBA, currently ranked Top 10 in Europe. This means you'll be studying alongside professionals from all sectors of business, including healthcare, exposing you to a truly global spectrum of leadership strategies and techniques.
"As a clinician, my first priority will always be my patients. But I also have huge commitments to my staff and to my organisation. The MBA course has definitely given me the knowledge and confidence to deal with all my commitments effectively."

– Wilson Lopez, online MBA
Career outlook
Drawing on connections with a range of industries and organisations, the Birmingham Business School opens up countless opportunities to advance into a clinical leadership role.
Thanks to the interdisciplinary nature of the programme, it is suitable for professionals from clinical as well as non-clinical backgrounds. Whether you're a healthcare professional interested in senior leadership or a manager responsible for leading clinical staff, this programme is ideal.
Graduating unlocks career opportunities in frontline health services, either in the NHS or in private pharmaceutical, bioscience, medtech or life science companies.
Unlock your career
Admissions requirements
To apply for the Online MBA Clinical Leadership degree from the Birmingham Business School, you will need:
Bachelors Certificate or transcript (or equivalent): In order to assess your academic eligibility, you must upload a copy of your Bachelors or alternative qualification certificate or transcript stating the final overall grade of the qualification.
At least an upper second-class degree from a UK university, or we also accept alternative degrees plus relevant work experience
At least 3 years of relevant management experience in a healthcare setting
A reference (this is dependant on your entry mode and may not be required)
CV
Language requirements (international students)*
A statement of purpose (Optional)
* Exceptions to the listed admissions requirements will be assessed on an individual basis.
View requirements
Tuition details
The estimated total cost of this programme is £24,284. You can pay in full or in instalments of £1,868 on a module-by-module basis. All costs are listed, to help you make an informed decision.
More tuition details
Start dates:
March | July | October
Looking to learn whether you meet our entry criteria?
Email your degree certificate (or equivalent) to us. A member of the online admissions team will provide feedback within 48 hours.
Email Degree Certificate
Curriculum: Enhance your leadership skills
Our accredited Online MBA Clinical Leadership provides key insights into the business management process with a health leadership focus, equipping you with the tools to create smarter, more efficient healthcare systems.
Alongside the core MBA modules, you'll study three healthcare-focused electives: Governance, Policy and Regulation in Health Organisations; Leading Clinicians; and Digital Health.
By introducing you to such diverse and innovative topics, the programme will help further your understanding of technology, care delivery, data interoperability and alternative employment models. Such knowledge is essential for professionals seeking to effect policy change, lead clinical experts and deliver more effective and efficient healthcare.
Explore the curriculum
"I've gained a lot both professionally and personally. It's made me much more competitive and goal-orientated, it's benefited my resumé, it's increased the trust my superiors have in me and I'm being given tasks beyond my pay grade."

– Ceridwen Scerri, online MBA
Programme outcomes
You will complete this programme ready to:
Explore and advance leadership practice in healthcare organisations
Develop and implement strategy
Appreciate the integrated value of marketing, operations, HRM, and accounting and finance
Generate confident business leadership in multiple contexts through group participation
As well as providing the highest levels of convenience and flexibility that 100% online learning offers, the programme is full of interactive elements, like video and group activities, which bring the content to life.
Rather than trying to replicate a campus-based setting online, we've built this programme from the ground up, drawing on the latest technology to create a truly unique and immersive student experience.
The online learning environment is not only a window to programme materials, it's an opportunity to connect directly with your lecturers and other professionals like yourself.
Experience Online
Taught by leading lecturers and experts from the Business School and the Health Services Management Centre (HSMC), this programme exposes you to a wealth of interdisciplinary insights and practice-based experiences.
The programme is led by Dr Solon Magrizos, whose main research interests include issues related to ethical companies and ethical consumers, the broader issues around corporate social responsibility (CSR) implementation, its link to a company's business benefits and the perceptions and reactions of consumers to company CSR initiatives.
From a Clinical Leadership perspective, this programme is supported by Senior Fellow Iain Snelling, Professor of Health Policy and Management Mark Exworthy and Professor of Sociology and Healthcare Organisation Justin Waring.
Meet the faculty
Frequently asked questions
You may have some questions about the programme, the university or the online environment. It's always the way when starting something new. Don't worry; we're here to answer them.
If you have a question we don't cover here, request more information or call +44 (0)800 032 7101.
Clinical Leadership and Healthcare Management are interchangeable terms, so studying an online MBA degree in either will often provide an equivalent range of business and healthcare management experience. However, not all of these alternative qualifications are AMBA-accredited.
Studying an Online MBA Clinical Leadership is an investment in your future. Not only will it further your understanding of business, it will also equip you with the clinical management skills necessary to lead clinical experts and drive better healthcare outcomes.
Research by GMAC (2018) suggests that 79% of campus-based MBA alumni thought their degree was personally, professionally and financially rewarding.
Delivered jointly through the Birmingham Business School and the HSMC, the programme is designed to support your understanding of clinical leadership. The HSMC was established over 50 years ago, and has a strong reputation for research, evaluation, teaching and professional development for health and social care organisations in the UK.
Find out more about our online learning environment.
Visit our FAQ page